As promised, item 5.c) on the agenda for Thursday's Regular Meeting and Tuesday's Work Session of the Valdosta City Council: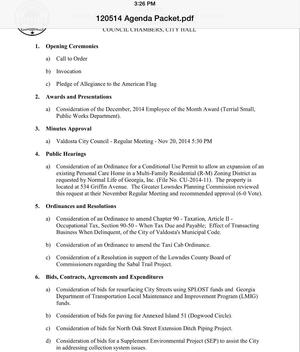 Consideration of a Resolution in support of the Lowndes County Board of Commissioners regarding the Sabal Trail Project.
Has staff found the digital copies of the maps for CU-2014-11 Normal Life of Georgia? If the county put agenda packets for the Planning Commission online, staff wouldn't have to worry about that.
Here's the agenda, thanks to images from Council Member Tim Carroll.
3:26 PM
120514 Agenda Packet.pdf
AGENDA
REGULAR MEETING OF THE VALDOSTA CITY COUNCIL
5:30 PM Thursday, December 11, 2014

-jsq
Short Link: