Most of the neighbors were camera-shy, but I found one for Colter Anstaett to interview for WALB.
Dave Miller wrote for WALB TV 7:26 PM EST 6 November 2014, Nashville city clears residential gas use, businesses asked to wait, which apparently was originally entitled "Gas must be conserved in Nashville", by Colter Anstaett 11:20 AM 6 November 2014,
BERRIEN CO., GA (WALB) — The City of Nashville says residential customers can resume normal natural gas use, after they asked all gas customers to conserve gas in the wake of a ruptured line.

Commercial business customers were still asked to conserve gas use Thursday night, according to Dawn Morrison with the City.

Resident Elizabeth Cherry said she was just thankful no one got hurt when the line was ruptured around 10 a.m.

"I was really worried about my dog because [my house] is so close, and he's kind of jittery anyway," said Cherry.

Cherry was coming home from the store with a car load of groceries around 10:30 when she tried to turn down Cat Creek Road and go home and was told the road was closed until crews could get the gas leak stopped.

"Saw the ambulance at the corner, then I noticed all the cars here. Of course, I stopped and asked what's wrong and they told me," she explained.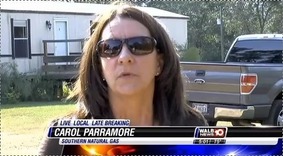 The story goes on to quote SONAT Operations Supervisor Carol Parramore as saying a motor grader hit the pipeline. That's what I said at first, too, but several neighbors say it was the ditch puller, which pulls dirt out of the ditch for the road scrape to spread on the road. That matches the break being in the ditch. Why don't pipeline companies bury their pipes deeper under road ditches?
The gas didn't get lit this time, fortunately, and nobody was hurt, although WALB quotes the Berrien County Sheriff Anthony Heath as saying 40-50 people were evacuated. Including me, from the site, after taking these pictures before WALB got there.
Sabal Trail plans to bury its 36-inch pipe only 36 inches deep. What if a ditch puller hit that? What if it sparked and set it off?
-jsq
Short Link: