Today is the last day to comment to GA EPD about Georgia Power's demand for more new water for the Plant Vogtle nukes than Savannah uses. As Southern Company CEO Tom Fanning said two years ago, "water, more than air, is the issue of the future". Comments may be emailed to EPDComments@dnr.state.ga.us with the subject line "Plant Vogtle." See below for videos of what people said at a recent public hearing.
Mary Landers wrote for SavannahNow.com 7 May 2014, Nukes thirst for Savannah River water,
That sucking sound you hear? That's Georgia Power and its partners preparing to pull 74 million gallons of water a day out of the Savannah River to cool the nuclear reactors at Plant Vogtle near Waynesboro. That's in addition to the 127 million gallons per day the existing reactors are permitted to draw.

"For downstream users like Savannah there's going to be a bigger straw in their river and it's Vogtle," said Sara Barczak of the Southern Alliance for Clean Energy.

The new nuclear reactors, for which you're already paying if you live in Savannah and use electricity, aren't expected to be in operation until 2017 or later. (It keeps getting later.) The state issued a draft water withdrawal permit in January that allows for the maximum daily pull of 74 million gallons per day or a monthly average of 62 million gallons per day.

For comparison, the city of Savannah takes out a maximum of 55 million gallons a day from the river for drinking water. (EPD provides a link to a list of all withdrawals here.) And if you think Vogtle will return most of the water to the river after using it for cooling, think again: the consumptive use is estimated at 71 percent on average. Worst case scenario is that the cooling process will send 88 percent of the water into the atmosphere through evaporation.
There's more in that article, including this:
To the Coastal Sierra Club's Steve Willis, what's more worrisome is that billions of dollars of work has gone forward on the reactors without the companies first securing a water withdrawal or discharge permit.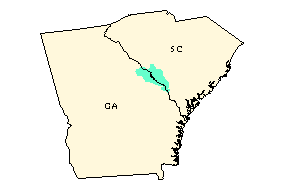 Remember, Plant Vogtle already uses more water than all the local agriculture.
Two years ago at the Southern Company stockholder meeting, SO CEO Tom Fanning said,
I think frankly water, more than air, is the issue of the future.
Southern Company is Georgia Power's parent company, so let's also ask Tom Fanning to stop this water taking. There's no excuse for it when we can power the state and the country on sun, wind, and water and Georgia Power and Southern Company with it's biggest private R&D operation in the U.S. can be the key to that.
Here's a video playlist of speakers at the GA EPD hearing of May 8th:

Georgia Power wants more new water for Vogtle nukes than Savannah uses
Plant Vogtle Water Use,
Public Hearing, Georgia Environmental Protection Division (GA EPD),
Videos by Community Activism,
Waynesboro, Burke County, Georgia, 8 May 2014.
Here are links to the individual videos:
-jsq
Short Link: