Basing a local economy on attracting retirees may not work so well anymore. Fortunately, there are plenty of things we can do here to provide jobs for our graduates and to attract non-retirees.
Jim Galloway wrote for the AJC Saturday, Rural areas a less populated place as Baby Boomers shy away,
This week, the U.S. Census Bureau issued 2012 population estimates showing that, for the first time ever, the rural population of America has suffered a measureable drop.
"First time ever"? I guess Galloway has never heard of The Unsettling of America: Culture and Agriculture by Wendell Berry, 1996.
Urbanization is a worldwide phenomenon that has been going on for many decades. The U.S. isn't urbanizing as fast as some countries because at 80%+ it's already among the most urbanized. Georgia has rapidly urbanized from the start; there has never been a reverse of that trend, as these figures for every decade from 1790 to 2010 from the U.S. Census Bureau show:
0.0% 3.2% 2.1% 2.2% 2.7% 3.6% 4.3% 7.1% 8.4% 9.4% 14.0% 15.6% 20.6% 25.1% 30.8% 34.4% 45.3% 55.3% 60.3% 62.4% 68.8% 71.6% 75.1%
Georgia is now the most urbanized state in the South except for Virginia.
So what's he talking about?
That might surprise you. For decades, farm country has bled young people in search of jobs. But since the 1960s, the nation's agricultural regions — including many areas of Georgia — have been able to offset their population losses and pad their tax rolls with urban and suburban retirees in search of a little peace and quiet.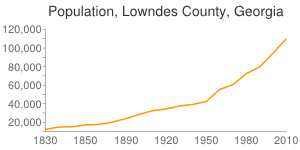 In central south Georgia, Lowndes, Coffee, and Tift Counties are projected to increase in population for some time, while Lanier grew faster than any of those between 2000 and 2010 (maybe because of bright flight). For Lowndes and Tift, I-75 has a lot to do with it, and we all know Moody AFB has a lot to do with Lowndes, plus VSU, Wiregrass Tech, SGMC, etc.
Many of us Baby Boomers can no longer afford the sound of crickets. Candidates for retirement are staying put in urban areas near jobs and other crucial amenities, census numbers indicate.

Overall, from 2010 to 2012, Georgia's population crept up 2.3 percent to 9.9 million, the bureau reports. But along the state's southern border, 11 of 19 counties lost population in that brief time span — continuing a long-term decline.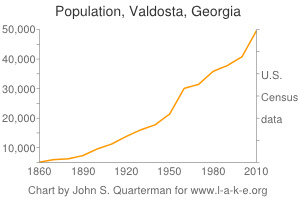 Which is why Lowndes County and Valdosta are the biggest population center for 100 miles around: most of the other counties are losing population. But that doesn't mean we're becoming more rural. Quite the opposite. Valdosta's population has increased slightly faster
More surprising is that, of the 18 counties that line Georgia's roof, eight have fewer people than they did in 2010. State officials have long pitched north Georgia as the nation's next new retirement haven, especially for those who find Florida too hot, flat and — during hurricane season — windy.
And here in Lowndes County we get half-backs, as in retirees from Florida fleeing hurricanes who don't want to go where it's cold. But that won't be enough.
Old people, with their pension checks, investment funds and lack of children in need of costly educations, are considered the low-hanging fruit of economic development. A few years back, Gov. Sonny Perdue, to encourage Georgia's development into a retirement community, wanted to exempt everyone over 65 from the state income tax.

He came close. Retirees in Georgia can exempt $65,000 in annual income, or $130,000 per couple. But the census figures tell us that this strategy isn't nearly enough to keep rural Georgia afloat….

"Rural areas aren't necessarily cheaper than urban ones, because there's no competition," said Doug Bachtel, the longtime University of Georgia demographer. "If you want to buy some expensive groceries, you go to a rural grocery store. You can buy groceries cheaper in Buckhead than you can in Tifton."
Maybe it's time to focus more on attracting younger people. Or maybe retaining the younger people we've got, so they don't have to go to Atlanta to find a job when they graduate from high school or college.
Here's a point that could address both retirees and younger folk:
But the biggest unwelcome mat for retirees eyeing empty farmland may be the lack of a nearby hospital or doctor.
Love that big city bias! "Empty farmland". Of course, that's how most of our local leaders think of it, too: farmland is just something to be paved over for a parking lot. But as Galloway pointed out, life can actually be cheaper in Atlanta than in south Georgia, so maybe it's time to stop trying to turn south Georgia into paved-over Atlanta. People who want to live in Atlanta will live in Atlanta. Let's do something for the people who want to live in south Georgia.
In southwest Georgia, two hospitals suspended operations this spring.
Those were Calhoun Memorial Hospital in Arlington and Stewart-Webster Hospital in Richland.
"You've got areas of Georgia where you can't create or sustain a health care market. That's fatal to anything resembling an economic development effort," said Charles Hayslett. He's heading up a project funded by Health Care Georgia Foundation to make the case for rebuilding the state's decaying health care network.
We have South Georgia Medical Center with its bond-funded expansion. It could use fast affordable Internet access for telemedicine, including remote doctor consulting, medical images, sensors, etc. We have plenty of sunshine for distributed rooftop solar power that can bring jobs and reduced power bills to rural south Georgia. And we have agriculture which is still a mainstay of our economy.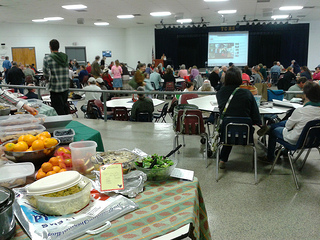 What if we got into the lead on local and sustainable agriculture?
Instead of giving the county a black eye suing a local business to try to put it out of business, there are plenty of things we can do right here in south Georgia for a vibrant economy that don't depend on attracting retirees who may prefer to remain in Atlanta or Orlando. Plenty of things that will help provide jobs for our own young people. Let's do more of them!
-jsq
Short Link: