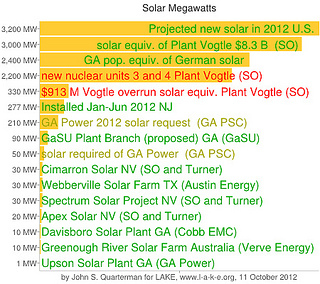 So if Southern Company is a "great, big company" similar to Australia, why did Australia just deploy a solar farm ten times the size of the biggest one SO has in Georgia?
Back in May, Southern Company (SO) CEO Thomas A. Fanning said:
From an energy standpoint, Southern Company is a little bit smaller, but similar to, the energy production profile of the nation of Australia. We are a great, big company from an energy production standpoint.
Meanwhile in Australia, Giles Parkinson wrote for Clean Technica 10 October 2012, Australia's 1st Utility-Scale Solar Farm Now On!
At about 11am local time near the Western Australian town of Geraldton this morning, Australia's first-utility scale solar farm was officially switched on.

It was a suitably sunny day (blighted by three million flies) and although just 10MW in size, and built courtesy of funding from the local government, a state-owned utility and by one of the wealthiest companies on the planet, it may presage a dramatic change in the way this country produces energy.
So what's SO or Georgia Power's biggest solar plant in Georgia? You remember, 1 MW in Upson.
OK, to be fair, that's just Georgia Power. SO does have larger solar farms elsewhere, including
Now I know Georgia Power's party line is that solar is only good in the U.S. southwest. But I don't know how that explains Continue reading →