Update 2022-03-07: LAKE videos.
Two small lot variances in Hahira, two small lot rezonings in Lowndes County, three small rezonings in Valdosta, and one big annexation and rezoning by Valdosta, 35 acres for Murray Staten Farms, LLC, 3550 Lake Laurie Drive, all on the agenda this evening for the Greater Lowndes Planning Commission (GLPC). GLPC recommends, and the elected bodies decide. For an annexation, the Lowndes County Commission will have to state whether it objects before the Valdosta Mayor and Council decide.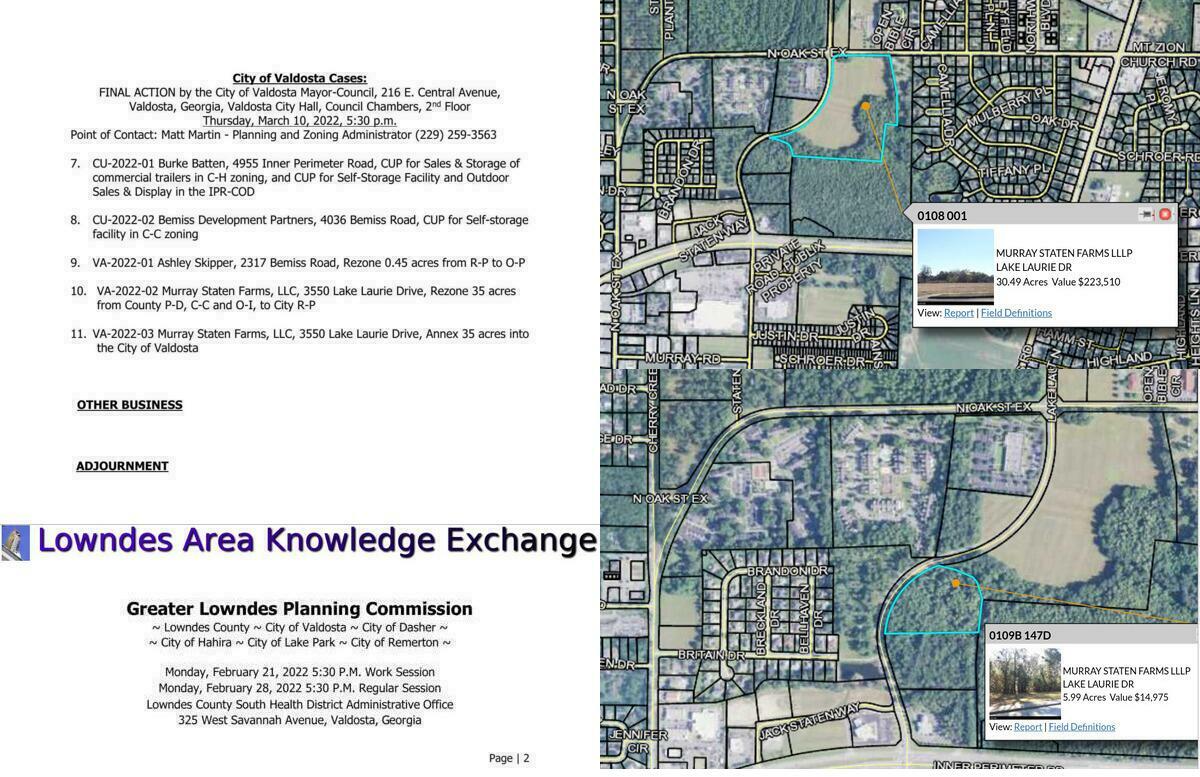 Agenda, Lake Laurie Drive annexation
There's no parcel listed for 3550 Lake Laurie Drive by the Lowndes County Tax Assessors. Why the agenda can't just tell us which parcels is mysterious.
However, this parcel is where google maps finds that address: 0108 001, with 30.49 acres.
Add to that the one just south of it, 0109B 147D, with 5.99 acres. That totals 36.48 acres, which is close to 35 acres.
Not shown in the Tax Assessors maps is a creek that forms the boundary between those two parcels, Cherry Creek South Branch. You can see it on this VALORGIS map as the twisty blue lines, along with Valdosta sewer lines (green) and water lines (also blue, but mostly straight lines). That VALORGIS map also shows the area of those parcels not in the Valdosta City Limits (outside the orange area).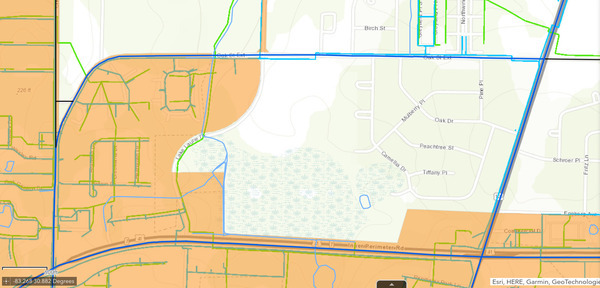 VALORGIS: Valdosta water and sewer, and Cherry Creek South Branch
The agenda says the requested rezoning is to Valdosta City R-P. According to Valdosta's Land Development Regulations (LDR), Section 4.1:
R-P Residential Professional. The purpose of this district shall be to create and provide areas in which residential, professional, educational and institutional uses not normally involving the sale of merchandise can be compatibly mixed while maintaining a healthy living environment for the residents of the district.
Here is the agenda.
Greater Lowndes Planning Commission
~ Lowndes County ~ City of Valdosta ~ City of Dasher ~
~ City of Hahira ~ City of Lake Park ~ City of Remerton ~
Monday, February 21, 2022 5:30 P.M. Work Session
Monday, February 28, 2022 5:30 P.M. Regular Session
Lowndes County South Health District Administrative Office
325 West Savannah Avenue, Valdosta, Georgia

OTHER BUSINESS

ADJOURNMENT
-jsq
Investigative reporting costs money, for open records requests, copying, web hosting, gasoline, and cameras, and with sufficient funds we can pay students to do further research. You can donate to LAKE today!
Short Link: