The Deep South Solid Waste Authority (DSSWA) disburses grant money from landfill tipping fees to participating local governments.
This meeting will be in the new Southern Georgia Regional Commission (SGRC) office, 1937 Carlton Adams Dr., across from the Lowndes Board of Education and next to the Goo Goo Car Wash.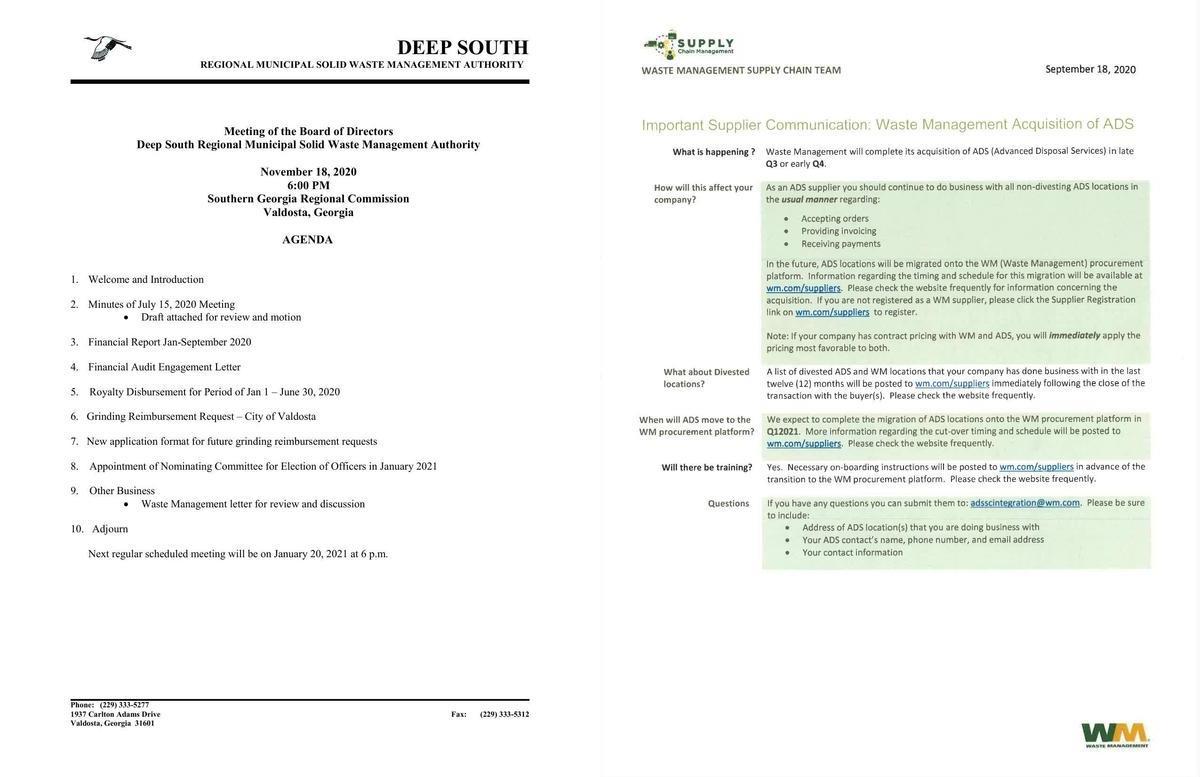 Agenda and WM acquisition schedule for ADS
I'm of a mind to zoom the meeting.
Here is the agenda. The entire board packet is on the LAKE website, thanks to Elizabeth Backe of SGRC.
DEEP SOUTH
REGIONAL MUNICIPAL SOLID WASTE MANAGEMENT AUTHORITY

Meeting of the Board of Directors
Deep South Regional Municipal Solid Waste Management Authority

November 18, 2020
6:00 PM
Southern Georgia Regional Commission
Valdosta, Georgia

AGENDA

Welcome and Introduction
Minutes of July 15, 2020 Meeting e Draft attached for review and motion
Financial Report Jan-September 2020
Financial Audit Engagement Letter
Royalty Disbursement for Period of Jan 1 — June 30, 2020
Grinding Reimbursement Request — City of Valdosta
New application format for future grinding reimbursement requests
Appointment of Nominating Committee for Election of Officers in January 2021
Other Business e Waste Management letter for review and discussion
Adjourn
Next regular scheduled meeting will be on January 20, 2021 at 6 p.m.

---

Phone: (229) 333-5277
Fax: (229) 333-5312
1937 Carlton Adams Drive
Valdosta, Georgia 31601
-jsq
Investigative reporting costs money, for open records requests, copying, web hosting, gasoline, and cameras, and with sufficient funds we can pay students to do further research. You can donate to LAKE today!
Short Link: