Update 2019-03-27: LAKE videos of Monday morning Work Session and Tuesday evening Regular Session.
A single-source no-bid contract with Lovell Engineering is on the agenda for Professional Surveying and Engineering Services for Improvements to Lester Road. The dollar amount is not given in the agenda sheet.
The Basic Decorative Street Lighting District is not the one defered last time (Walker's Run). They want to charge $61.50 per lot per year.
No special trash collection tax district for Lowndes County, though, although state law explicitly authorizes that. Instead, once again they are renewing curbside trash pickup licenses for ADS and DSS; the latter of course only after the county sued all the way to the state Supreme Court to try to stop it.
Here is the bid sheet from 2012. You may want to compare Veolia's bid to what its new owner ADS is charging now.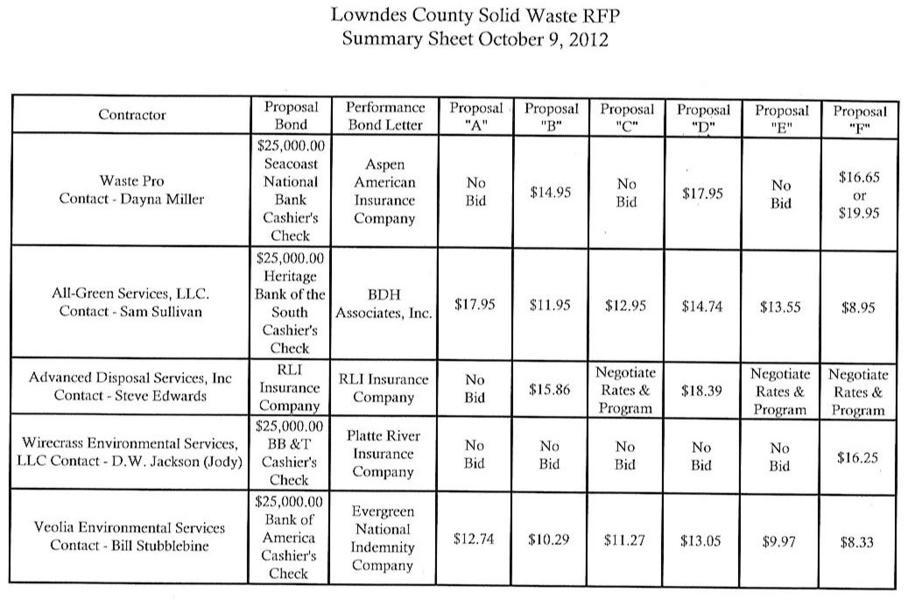 LOWNDES COUNTY BOARD OF COMMISSIONERS
PROPOSED AGENDA
WORK SESSION, MONDAY, MARCH 25, 2019, 8:30 a.m.
REGULAR SESSION, TUESDAY, MARCH 26, 2019, 5:30 p.m.
327 N. Ashley Street – 2nd Floor
-jsq
Investigative reporting costs money, for open records requests, copying, web hosting, gasoline, and cameras, and with sufficient funds we can pay students to do further research. You can donate to LAKE today!
Short Link: