Most attending ever seen at the Lowndes County, Georgia, Board of Elections! Potential closure of the Clyattville voting precinct was the issue. That won't happen because of the strength of the Clyattville community in organizing and working with the union hall.
The union hall, at 5421 Madison Highway, is the meeting of the workers union, United Steel Workers (USW) Local 646, at the paper mill, the Valdosta Mill of Packaging Corporation of America (PCA).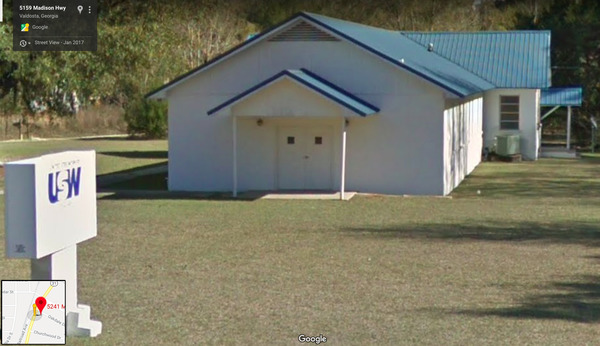 Google maps Street View, USW Union Hall, 4241 Madison Highway, Valdosta, GA.
The origin of the issue was the union hall said it didn't want to continue being a polling station, due to some misunderstanding. There is no other good location. The old fire hall is not heated or cooled, and is used for storage. The new fire hall is too small.
Jerome Tucker, former Chair of the Valdosta-Lowndes County Industrial Authority, was present at the Board of Elections meeting, and he will be the new poll manager for the Clyattville Precinct.
Exactly how this happened is not clear, since it happened before the Board of Elections meeting. According to Jerome Tucker, apparently local people had a meeting "last Thursday" with 35-40 people, including a union representative.
Here's a LAKE video playlist:

Videos: Clyattville Precinct at Board of Elections, Lowndes County, Georgia, 2019-01-08
Video by Gretchen Quarterman for Lowndes Area Knowledge Exchange (LAKE),
Valdosta, Lowndes County, Georgia, January 8, 2019.
-gretchen
Investigative reporting costs money, for open records requests, copying, web hosting, gasoline, and cameras, and with sufficient funds we can pay students to do further research. You can donate to LAKE today!
Short Link: