Once again the Valdosta Mayor and Council hold their retreat outside Valdosta and outside Lowndes County at Lenox River Ranch, Lenox, Cook County, Georgia, today and tomorrow. Excuse me: Strategic Initiatives Summit (SIS). I compliment them on publishing on their website before the event the agenda, the topics submitted by each council member, and the Mayor and Council Goals for Fiscal Year 2018 (I got this four days ago). Hm, what's this about:
5. Find additional resources for the executive director of Valdosta-Lowndes Keep Lowndes-Valdosta Beautiful (KLVB) to include the Mayor's Adopt-A-Street program.
However, I don't see who else they are meeting with for it to be called a Summit. Oh wait: the Chamber. Probably George Boston Rhynes will be there to video like last year.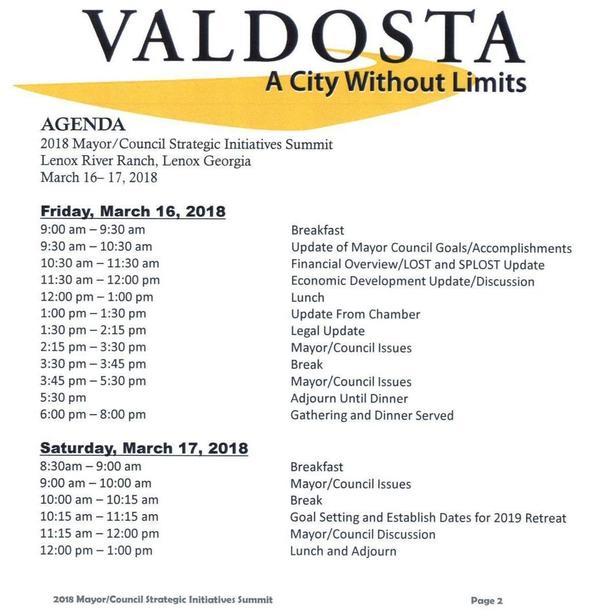 I don't know why the source PDF says Page 2.
VALDOSTA

A City Without Limits

AGENDA
2018 Mayor/ Council Strategic Initiatives Summit
Lenox River Ranch, Lenox Georgia
March 16-17, 2018

Friday, March 16, 2018

9:00 am — 9:30 am
9:30 am — 10:30 am
10:30 am — 11:30 am
11:30 am — 12:00 pm
12:00 pm — 1:00 pm
1:00 pm — 1:30 pm
1:30 pm — 2:15 pm
2:15 pm — 3:30 pm
3:30 pm — 3:45 pm
3:45 pm — 5:30 pm
5:30 pm
6:00 pm — 8:00 pm
Breakfast
Update of Mayor Council Goals/Accomplishments
Financial Overview/LOST and SPLOST Update
Economic Development Update/Discussion
Lunch
Update From Chamber
Legal Update
Mayor/Council Issues
Break
Mayor/Council Issues
Adjourn Until Dinner
Gathering and Dinner Served

Saturday, March 17, 2018

8:30am —9:00 am
9:00 am — 10:00 am
10:00 am — 10:15 am
10:15 am — 11:15 am
11:15 am — 12:00 pm
12:00 pm — 1:00 pm
Breakfast
Mayor/Council Issues
Break
Goal Setting and Establish Dates for 2019 Retreat
Mayor/Council Discussion
Lunch and Adjourn

2018 Mayor/Council Strategic Initiatives Summit

Page 2
Here are what
each City Council member asked to discuss
. Tim Carroll tells me each one also gets to bring up other topics at the event.
City of Valdosta Mayor/Council Discussion Topics

Strategic Initiatives Summit – 2018

Mayor John Gayle

Blight Tax *
Overlay District
Facilities Study
Mayor Pro Tem Selection

Councilwoman Vivian-Miller Cody — District 1

Sidewalk and bicycle trail from E. Hill Avenue to Fry Street to connect with existing sidewalk at Hudson Street
Woodlawn Park Part 2 is in need of a pavilion shelter, lights, water, and concrete flooring
Three-lane widening or turn lane for Forrest Street. (E. Hill Avenue @ Forrest to Bemiss Road)
Citywide ordinance holding landlords/owners responsible for maintaining rental property up to homeowners' standard
Existing entranceway signs — place lighting to stir and welcome newcomers into our city

Councilwoman Sandra Tooley — District 2

Dedication of T-SPLOST *** Funds to Public Transportation for city bus line **
Quarterly meetings with Lowndes County Commissioners
Revision of City Charter as it pertains to appointments to Boards and Commissions
Televising of City Council meeting on Channel 17
Update/revision of City's Personnel Policy regarding internal promotions

Councilman Joseph "Sonny" Vickers — District 3

Employee Salaries
Mayor/Council Salaries
Neighborhood Beautification
SPLOST
Government Transportation **
T-SPLOST ***

Councilman Eric Howard — District 4

Sidewalks on Northside and Connell
Bathroom in parks on Bemiss and Tyndall
Funding for programs — Projects and night basketball leagues
Improved/New lightning in older areas of town
Basketball courts in Parks

Council Tim Carroll — District 5

Identifying and working to address the two or three biggest issues our city faces. Issues that hurt our economic growth and issues that harm our residential areas. Do we need to approach these independent of each other? Do we need to form a working group? What other groups are already working on some of this? M/C discuss and work to develop an approach.
Are we doing everything we can to recruit new businesses? What should be the role of the city? Update from the Development Authority. Update from the Chamber on the business incubator. ****
Blight Tax *
Re-cap by district of all projects that have been completed or are planned for 2018 from the last five (5) years.
Community Internet/TV system? Would the city be interested in partnering with other community stakeholders in hosting a Technology Symposium and invite experts in the field to discuss what other communities are doing to provide high quality internet access?

Councilman Andy Gibbs — District 6

Downtown — shops that focus more on families. Additionally, work to get all downtown shops involved in Fist Fridays; maybe offer incentives to shops that participate. VSU night that offer specials for college students and the same for families.
Recognition of new companies in the city. Chamber does this but city could take it to the next level and we could also personally thank shops for opening ****
Transit System — needed for downtown to VSU and other parts of the City. **
Bring Valdosta and Moody together

*Indicates duplicate topics
The following goals and action items were approved at the March 11-12 Mayor-Council Retreat.

Goals

Review the Land Development Regulations (LDR) for modifications to the requirements for the replacement of owner-occupied manufactured homes to include a requirement for assisting homeowners with housing options.

Hold meetings of city elected officials and staff with the city school system and parents to identify and encourage good life decisions for our youth and to help prepare them for future success.

Continue to work with the Metropolitan Planning Organization (MPO), county and other entities to pursue public transportation in the Metropolitan Statistical Area (MSA) urbanized area.

Carry out the Special Purpose Local Option Sales Tax (SPLOST) plan as amended through 2019.

Continue to work in partnership with the Valdosta-Lowndes Development Authority and others to enhance economic development in the city and the community.

In collaboration with the Valdosta Housing Authority, develop a plan to gain public and private support for a mixed-use housing development.

Continue discussions with the Valdosta-Lowndes County Conference Center and Tourism Authority and appoint a Municipal Auditorium Steering Committee to discuss a public facility project to include funding, location, sale of Mathis Auditorium, and a timeline.

Continue to support economic development downtown in partnership with the Central Valdosta Development Authority (CVDA).

Collaborate with community and regional leaders to continue advocacy efforts on behalf of Moody Air Force Base in support of its value to national defense and our community and seek opportunities for base growth and expansion in preparation for any potential future Base Realignment and Closure Commissions (BRAC).

Continue to operate the city in fiscally responsible manner.

Develop a list of transportation projects in preparation for a regional T-SPLOST for the 18-county area.

Set up a meeting with other governments and authorities in an effort to share current activities and establish a future community-wide vision and common goals.

Action Items

Continue to communicate the message of our significant investments in wastewater systems.

SPLOST VIII sidewalk from E. Hill Avenue/Fry Street.

Evaluate and recommend term limits on authorities, boards and commissions.

Write a letter of support for the roundabout project at 5 points.

Find additional resources for the executive director of Valdosta-Lowndes Keep Lowndes-Valdosta Beautiful (KLVB) to include the Mayor's Adopt-A-Street program.

Explore after-school activities at Forest Street facility through VLPRA.

Budget for Alden Avenue ditch piping and Alden Avenue/Gordon Street intersection improvements.

Revise the Historic Preservation Ordinance to give council discretion.

Strengthen the current and proposed property maintenance ordinance.

Review the fine system/structure (Carroll, Vickers and Yost).

Develop plans for upgrading council chambers to include video, audio and City Hall refurbishing.

Conduct a review of the City Charter to consider any agreed upon revisions.
-jsq
Investigative reporting costs money, for open records requests, copying, web hosting, gasoline, and cameras, and with sufficient funds we can pay students to do further research. You can donate to LAKE today!
Short Link: