Even FPL is doing solar power now, as evidenced by these pictures John Horton sent back from Daytona yesterday.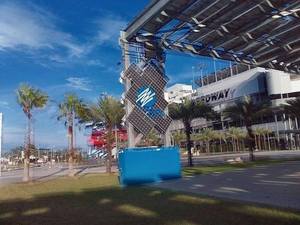 So, FPL, how about cancel Sabal Trail and help the sun rise faster on the Sunshine State?
Kelly Pickerel, Solar Power World, 19 February 2016, Three solar canopies complete at Daytona International Speedway,
Florida Power & Light Company (FPL) and Daytona International Speedway (DIS) announced the completion of the FPL Solar Circuit, a system of more than 7,000 solar panels that generate electricity for the Speedway's operations and FPL's 4.8 million customer accounts when the sun is shining. FPL Solar Pavilion at the Daytona International Speedway in Daytona Beach, Fla. on February 18, 2016.

The FPL Solar Circuit's total generating capacity is approximately 2.1 megawatts (2,100 kilowatts), ranking the Speedway in the top five U.S. professional sports facilities for solar energy installations, according to data from the Solar Energy Industries Association.

"With innovative partners like FPL, DAYTONA Rising has transformed the Speedway into the world's first motorsports stadium," said Daytona International Speedway President Joie Chitwood III. "The FPL Solar Circuit complements the advanced technologies we've used to modernize the stadium and enhance the experience for race fans."

"We're honored to play a significant role in the redevelopment of such an iconic destination that hosts hundreds of thousands of visitors to our state each and every year and reaches millions of others around the globe," said Eric Silagy, president and CEO of FPL. "This partnership with the Speedway is a shining example of Florida's innovation and advanced economy for the world to see."
So, FPL president Silagy, how about cancel the $3 billion Sabal Trail fracked methane pipeline boondoggle and put more solar panels on roofs and canopies? It would take half the acreage of Sabal Trail's eminent-domain-extorted right of way to produce just as much electricity through solar power, with no three-year permitting, no leaks, no explosions, and no eminent domain. The article brags about the few installations FPL is doing, but it lags way behind Georgia Power, which still trails New Jersey. How about get real about sun power in the Sunshine State?
-jsq
Investigative reporting costs money, for open records requests, copying, web hosting, gasoline, and cameras, and with sufficient funds we can pay students to do further research. You can donate to LAKE today!
Short Link: