Once again time for the Hahira Honeybee Festival, 29 September through 4 October 2014. Starting this morning with the "Kick-Off Breakfast 7-9 a.m. Community Center- Randall St. Everyone Welcome"
This festival is not run by the City of Hahira, rather by Hahira Honeybee Festival, Inc., registered agent Melba Locher of Shiloh Road, Helen Petitjean Secretary, Melba Locher CFO, Carol Jacobs CEO, according to the Georgia Secretary of State.
According to the Festival's history page:
The Hahira Honeybee Festival was st arted in 1981 by Mamie Sorrell and Adeline Landrum. These two ladies loved Hahira and had a vision "to liven up city" with a weekend of Arts & crafts , Entertainment, and a parade. The weekend festival has grown into a week long extravaganza. The festival is now known as one of the best in the Southeast. The parade is touted as the best in South Georgia. It has been estimated that anywhere from 20,000 to 36,000 visitors come to town for the parade and to walk the streets for arts & crafts, and lots of food. The City supports the festival each year with city services and employees. This year, 2010, will be our 29th annual festival. The current members work to carry on the legacy of Mamime and Adeline, to have fun and keep the festival a family oriented event. The Honey Bee Festival Members, known as the "Busy Bees" meet every month from March to September to plan the festival. The meetings are held at the Hahira Courthouse every 3rd Tuesday of each month at 7pm. We invite visitors and/or volunteers to join us!
Here are some pictures of the Breakfast from 2012.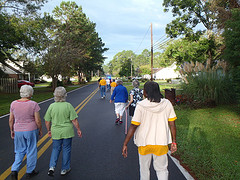 And the Senior Walk from 2012, coming up tomorrow, 8-10 AM 30 Sep 2014
And the parade from 2011, coming up Saturday noon 4 October 2014.
-jsq
Short Link: