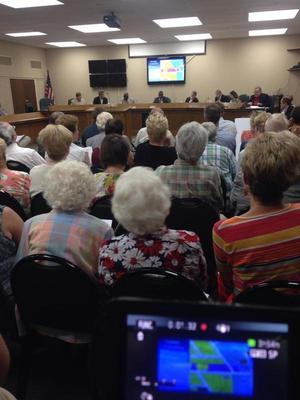 Stuck in the foyer six deep because SRO in the Planning Commission tonight, mostly for the Turner Brooks item, back with another plan after being withdrawn last month. Tom Call, representing some of the owners of the property sellers, said they'd tried to meet with the neighbors, who refused. He didn't say whether they tried meeting with them one-on-one. GLPC could have put a bunch of conditions on it that would have mostly satisfied the neighbors' concerns, leaving the developers and sellers to decide whether it was worth it. Instead, they tabled. The Valdosta City Council can still decide if they want to. However, one of the houses they'd have to demolish is potentially on the National Historic Register, and if so, they can't tear it down.

Also, they only submitted one name for the County Commission to consider for appointment to GLPC; attorney Brad Folsom. They didn't include several potential women applicants, several of them attorneys, and yes, also Gretchen. As an old white man, even I find it impressive how much this area is run by old white men.
The agenda arrived only as images Gretchen took at the meeting. Videos to come.
Greater Lowndes Planning Commission

Lowndes County City of Valdosta City of Dasher City of Hahira City of Lake Park

REGULAR MONTHLY MEETING

AGENDA

Lowndes County South Health District Administrative Office
325 West Savannah Avenue

Monday, August 25, 2014* 5:30 P.M. * Public Hearing
FINAL ACTION by the City of Valdosta Mayor-Council
Thursday, September 11, 2014
Valdosta City Hall, 216 E. Central Avenue, Valdosta, Georgia
Council Chambers, 2nd Floor
5:30 p.m.

CU-2014-06 Alex & Deborah Martin
Property Location: 602 Pine Point Circle
Request Conditional Use Permit to establish an Accessory Dwelling Unit in a Single-Family Residential (R-15) zoning district

Added restriction.

CU-2014-07 Mike Gung
Property Location: 1409 North Ashley Street
Request two Conditional Use Permits to establish an Event Center and a Flea market in a Highway Commercial (C-H) zoning district

Readvertise.

VA-2014-07 Turnner Brooks LLC
Property Location: West of Azalea Drive, between Baytree Road and Pine Tree Road.
Request to rezone 8 parcels totaling about 3.89 acres from Single-Family Residential (R-10) and Office-Professional (O-P) to Multi-Family Residential (R-M).

The controversial item.

VA-2014-08 City of Valdosta
Property Location: 2413 & 2415 North Oak Street
Request to rezone 2 parcels totaling about 1.24 acres from Single-Family Residential (R-15) to Office-Professional (O-P).

FINAL ACTION by the City of Lake Park Mayor-Council
Thursday Tuesday, September 2, 2014
Lake Park City Hall,l 120 N. Essa Street, Lake Park, Georgia
7:30 p.m.

LP-2014-02 City of Lake Park A text amendment to the Lake Park Zoning Ordinance as it pertains to religious meetings in commercial districts.

FINAL ACTION by the Lowndes County Board of Commissioners
Thursday, September 9, 2014
Lowndes County Judicial and Administrative Complex
Commission Chambers, 2nd Floor
327 North Ashley Street, Valdosta, Georgia
5:30 p.m.

REZ-2014-15 GP Investments
Property Location: Copeland Road, Inner Perimeter Road, and U.S. 41 South, Valdosta, Georgia
Request to remove rezoning conditions approved by the Lowndes County Board of Commissioners
TXT-2014-2 Lowndes County Board of Commissioners
The adoption of the ULDC that completes amendments previously approved by the LCBOC
-jsq
Short Link: