Spectra was unwilling to consider adapting their Sabal Trail pipeline plan to include renewable energy, other than to continue reiterating that they do natural gas pipelines, and to refer to renewables only as "alternative" energy.
Laura Dailey asked at the Gilchrist County Commission meeting 20 February 2014:
Will the pipelines be adaptable to future use of other forms of energy besides the transmission of fossil fuels. Anybody know that?
Brian Fahrentholdt of Spectra answered:
I would like to reiterate. We're in the natural gas business. We build pipelines. We operate pipelines. We're not opposed to alternative forms of energy. But that is predominately why we're here today.
Laura Dailey tried again:
My question is: Will Sabal consider in their design, since the design has not been finished, and if we're going to do it right, before the infrastructure gets built, would be seemingly the right time to make the decision, I understand that the FERC has a no app action option, which would give Sabal two to five years to consider how we can build a pipeline, creating more….
In PREPARING ENVIRONMENTAL DOCUMENTS: GUIDELINES FOR APPLICANTS, CONTRACTORS, AND STAFF: 2.1 NO-ACTION ALTERNATIVE.
The no-action alternative is license denial. Under the no-action alternative, the project would not be built and environmental resources in the project area would not be affected.
FEDERAL ENERGY REGULATORY COMMISSION, Office of Energy Projects, AUGUST 2002, GUIDANCE MANUAL FOR ENVIRONMENTAL REPORT PREPARATION,
3.0 PREPARATION OF ENVIRONMENTAL REPORTS
FOR NATURAL GAS ACT SECTION 7
APPLICATIONS

Applicants initiate the environmental review process through filing of an application. The application must include an ER with Resource Reports as specified in § 157.14(a)(6-a), § 380.3 and § 380.12.

…

Resource Report 10 — Alternatives

… Minimum Requirements to Avoid Rejection

Address the "no action" alternative. (§ 380.12(l)(1))

Discuss the costs and benefits associated with the alternative.

For large projects, address the effect of energy conservation or energy alternatives to the project. (§ 380.12(l)(1))
Identify system alternatives considered during the identification of the project and provide the rationale for rejecting each alternative. (§ 380.12(l)(1))

Discuss the costs and benefits associated with each alternative
That document specifies the application for a FERC license has to do those things. For what Sabal Trail has done in its Resource Report 10, see Sabal Trail solar and wind misinformation.
Back to Laura Dailey:
We have over 28,000 miles of pipeline that is not usable in this country. We're going to add more pipeline which we've been told is state of the art. If it is state of the art right now today, state of the art will be old in two weeks.
Meanwhile, Solar learns faster than any other energy source –Citi GPS.
So my question is will you consider; I know you're in the business of natural gas; will you consider an option to look at the possibilities of how can natural gas transmission lines might be adapted to the future use of renewable resources.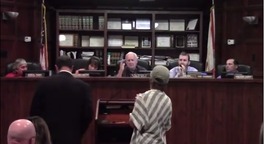 Fahrenholdt started to reiterate again, and Chairman D. Ray Harrison Jr (District 2) interjected:
I don't think that the people here tonight are the proper people to ask that question.

Laura Dailey:

I thought we had engineers here. Who might be thinking of how we could use this infrastructure.
The Chairman appealed for sticking to route issues in this particular session, and to contact the citizens committee for other issues for future workshops. Which indicates that the Gilchrist County Commission plans to hold future workshops like this.
According to John M Ayers in the Gilchrist County Journal 30 January 2014, Sabal Trail/Gilchrist County to meet Feb. 20,
Commissioner Todd Gray recommended the county identify a gas pipeline advisory committee made up of local residents who want answers from the construction group. The proposed committee includes J B Osteen, Pete Butt, Marion Poitevint, Jackie Clark, and David Biddle. The commission will finalize this committee during their February 3, 2014 meeting.
I don't know the best way to contact the citizens committee directly, but here is contact information for Gilchrist County Administrator Bobby Crosby.
Here's the video:

Adapt natural gas pipeline to renewable resources? –Laura Dailey
Regular Session, Gilchrist County Commission (GCC),
Video by John S. Quarterman for Lowndes Area Knowledge Exchange (LAKE),
Trenton, Gilchrist County, Florida, 20 February 2014.
-jsq
Short Link: