I recommend people go to tonight's budget "hearing"
and see what's said, and maybe even try to ask some questions. I'm staying home; here's why.
Since
Ashley Paulk is apparently still running the County Commission, I'm going by Ashley Paulk's stated theory that citizens provide input to the budget process at every meeting. I already provided mine 14 May 2013:
Why, if it wasn't a good use of taxpayer money to defend a lawsuit that was only potential, that might not even happen, why is it a good use of taxpayer money to initiate a lawsuit against a business in the county that has a valid business permit?
Current Chairman Bill Slaughter refused to answer at that time. If they mentioned that in their budget discussion meeting I must have missed it in the videos Gretchen took. If they mentioned it in last Tuesday's first budget hearing, the VDT didn't report it.
But maybe it will be different from last year when I asked why the county attorney seemed to be overbudget and got no answer. I would have brought that up at the 28 June 2011 Budget Hearing, except then-Chairman Ashley Paulk slammed down the gavel to adjourn the meeting before anybody could stand up to speak.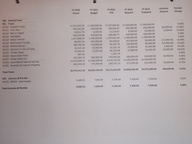 Maybe new Chairman Bill Slaughter will actually let people speak, even though he, like Chairman Paulk, did not publish the proposed budget for people to see before they approve it. I recommend you go and see. Me, I already went.
-jsq
Short Link: