Received yesterday on Sierra Club reports on big fossil fuel's coordinated attack on clean energy. My comments below. -jsq
Although the Sierra Club was notified of the errors in their report, they have yet to address them. In addition, neither fact checking nor communication was attempted by the Sierra Club on claims made in this report.

In response to this error-filled report , here is a short statement and brief fact check.

http://www.alec.org/fact-setting-response-to-sierra-club-report/

-Todd Wynn
And if you follow that link you find these things:
The American Legislative Exchange Council is not against renewable energy in any form….

ALEC believes that free markets in energy produce more options, more energy, lower prices and less economic disruptions. Also, ALEC believes that mandates to transform the energy sector and use renewable energy sources place the government in the unfair position of choosing winners and losers, keeping alive industries that are dependent on special interest lobbying. ALEC opposes mandates and therefore opposes infighting among fuel sources. ALEC also believes that government programs designed to encourage and advance energy technologies should not reduce energy choices or supply. They should not limit the production of electricity, for example, to only politically preferable technologies.
Translation: ALEC opposes renewable energy portfolio (REP) standards, which is one of the main points of the Sierra Club report. So ALEC's rebuttal actually supports that point.
The rest of ALEC's response is fiddling around the edges about who attended what conference and what somebody's precise form of affiliation was. ALEC's own web page on its "charlotte, north carolina may 11, 2012 spring task force summit" doesn't include a list of attendees, nor does ALEC's response, so I guess we're supposed to trust ALEC about this:
Our private sector members who attended this conference consist of a wide variety of industries including renewable energy companies.
That conference's posted agenda is this one paragraph:
Thursday, May 10, 2012

Registration 3:00 p.m. — 7:00 p.m. North Carolina Welcome Reception 8:30 p.m. — 11:00 p.m.

Friday, May 11, 2012

Registration 7:00 a.m. — 6:00 p.m. Joint Energy and Agriculture Subcommittee 8:00 a.m. — 9:45 a.m. 21st Century Commerce and Taxation Joint Working Groups 8:30 a.m. — 9:15 a.m. Transportation and Infrastructure Subcommittee 8:15 a.m. — 9:15 a.m. Digital Learning 8:15 a.m. — 9:15 a.m. Fiscal Policy Reform Working Group 9:30 a.m. — 10:15 a.m. Workshop 11:00 a.m. — 12:15 p.m. Task Force Lunch Meetings 12:45 p.m. — 2:00 p.m. Task Force Meetings 2:00 p.m. — 5:15 p.m.

Civil Justicce
Commerce, Insurance, and Economic Development
Education
Energy, Environment and Agriculture
Health and Human Services
Tax and Fiscal Policy
Communications and Technology

Spring Task Force Summit Reception 6:30 p.m. — 8:30 p.m.
So I guess we're supposed to just trust ALEC about this part, too:
Our agenda for the meeting covered many topics that are of interest to our state legislators from agriculture policy, smart grid deployment and what causes gas prices to streamlining permits for solar installations.
Indeed, the meeting covered many topics, but that's a straw man, because Sierra Club never said it didn't. As for whether it covered "smart grid deployment" or "streamlining permits for solar installations" we can't tell.
We can tell, because ALEC Exposed has been digging up the details that Sierra Club has expanded on and the gist of which ALEC itself has now confirmed: ALEC's meetings involve "our state legislators". "Our" as in captive by ALEC, instead of representing the people of their respective states.
Who are ALEC's state legislators in Georgia? Here's a list of them, as near as SourceWatch could determine.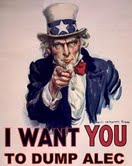 Also note that ALEC's comment included no attempt to refute anything else I said ALEC has done. So, once again, I invite Southern Company and all other ALEC members to dump ALEC. Oh, and I invite state legislators and regulators to represent the people, not ALEC. And the people know there's an election going on right now.
-jsq
Short Link: