Your second (and final) chance to comment on the 2012-2013 Lowndes County budget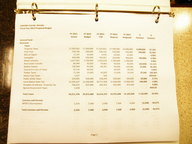 is Tuesday, June 26th at 5:00pm. The Lowndes County Calendar indicates that the Budget Hearing will be immediately ahead of the County Commission Meeting. I suggest arriving at least 5 minutes early.
At the first hearing, on July 19th, Finance Director Stephanie Black gave a power point presentation overview of the budget. You can view a PDF of that presentation .
Videos of the first budget hearing are available here.
And, the details of the budget are available for review in the reception area of the Lowndes County Commissioners Office (3rd Floor – 327 Ashley Street) or you can check out the low quality photos I took of them after the meeting.
-gretchen
Short Link: