Southern Company (SO) is deploying solar power in two southwestern states. Meanwhile, in Georgia, the 1973 Territoriality Act continues to impede others deploying solar while SO and Georgia Power waste our money on a nuclear boondoggle.
PR from Southern Company and Turner Renewable Energy, 29 June 2012, Southern Company and Ted Turner Acquire Second Solar Photovoltaic Power Project
Southern Company (NYSE: SO) Chairman, President and CEO Thomas A. Fanning and Turner Renewable Energy founder Ted Turner today announced that the companies have acquired and will bring on line a 20 megawatt solar photovoltaic power plant in Nevada.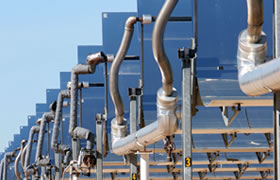 The Nevada plant is the Apex Solar Project, and earlier they did the Cimarron Solar Facility in New Mexico.
"Southern Company is proud to play a leadership role in renewable generation as we deliver clean, safe, reliable and affordable energy to our customers," said Fanning. "Our all-arrows-in-the-quiver approach calls for 21st century coal, nuclear, natural gas, renewables and energy efficiency in a diverse fuel mix necessary to meeting growing consumer demand and furthering America's energy independence."
Maybe it's just an oversight that SO CEO Fanning listed coal first Continue reading →