Update 2018-02-19: And a picture of the participants.
Still no agenda posted on lowndescounty.com. Below is the paper agenda Gretchen got at the meeting this morning. It has no times of day and no speakers listed. I wonder if the Commissioners got something more detailed than this?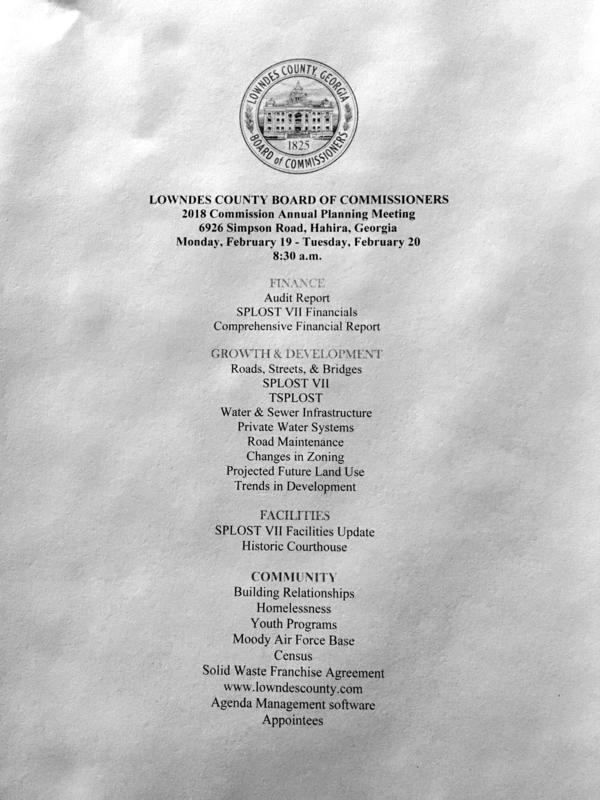 LOWNDES COUNTY BOARD OF COMMISSIONERS
2018 Commission Annual Planning Meeting
6926 Simpson Road. Hahira. Georgia
Monday. February 19—Tuesday. February 20
8:30 am.

FINANCE
Audit Report
SPLOST VII Financials
Comprehensive Financial Report

GROWTH & DEVELOPMENT
Roads. Streets, & Bridges
SPLOST VII
TSPLOST
Water & Sewer Infrastructure
Private Water Systems
Road Maintenance
Changes in Zoning
Projected Future Land Use
Trends in Development

FACILITIES
SPLOST VII Facilities Update
Historic Courthouse

COMMUNITY
Building Relationships
Homelessness
Youth Programs
Moody Air Force Base
Census
Solid Waste Franchise Agreement
www.lowndescounty.com
Agenda Management software
Appointees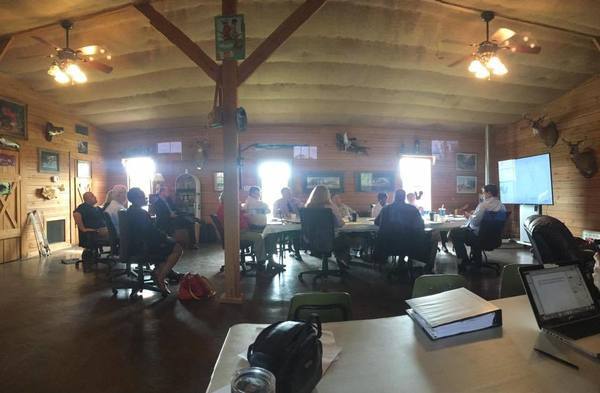 -jsq
Investigative reporting costs money, for open records requests, copying, web hosting, gasoline, and cameras, and with sufficient funds we can pay students to do further research. You can donate to LAKE today!
Short Link: