What needs no testing or cooling water, no eminent domain, no fuel, and emits only clean electricity? Solar panels, like those built by SolAmerica Energy behind the Langboard plant in Brooks County, Georgia.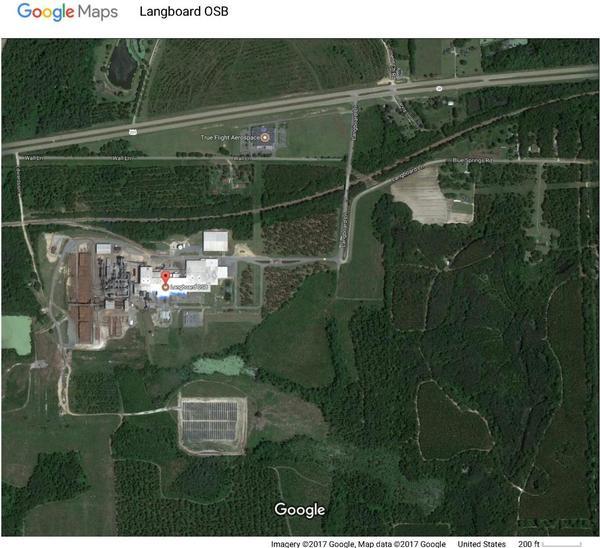 Behind Langboard OSB, on Langboard Lane, off US 84 just west of the Withlacoochee River in Lowndes County, Georgia.
Drone Video of Langdale Solar Tracker in Brooks County, Georgia
Solar FlexRack, Vimeo, 5 January 2017, Drone Video of Langdale Solar Tracker in Brooks County, Georgia from Solar FlexRack on Vimeo.

This solar tracker project consists of 55 racks and Solar FlexRack's TDP Turnkey Solar Tracker Solution. The solar array is located in Brooks County, Georgia and has SolAmerica Energy as the projects' EPC.
One of seven south Georgia SolAmerica solar projects
Unless there's another SolAmerica project in Brooks County already, this project must be one of these seven.
Solar Server, via Business Wire, 7 September 2017, SolAmerica Energy Completes 7 South Georgia Projects for Georgia Power's Advanced Solar Initiative,
SolAmerica Energy announced today that it has successfully completed seven new solar projects, totaling 4.6 megawatts (MW) AC, across several communities in south Georgia. These ground-mounted projects, with panels manufactured by Hanwha and REC, were developed and constructed to participate in Georgia Power's Advanced Solar Initiative. Georgia Power will purchase the power and the renewable energy credits generated by the projects under long-term agreements.

SolAmerica president, George Mori, stated, "We are excited to complete this latest round of projects with the Georgia Power team. These distributed solar assets will continue to deliver benefits to our landowner partners and their local communities for many years, while supplying energy to Georgia Power customers." Mori added, "For these reasons, we are big believers in the value chain of distributed solar generation."

The completed projects include:

Baldwin County Solar Farm I in Milledgeville: 769 kW
Baldwin County Solar Farm II in Milledgeville: 769 kW
Brooks County Solar Farm in Quitman: 769 kW
Evans County Solar Farm in Claxton: 385 kW
Macon County Solar Farm in Oglethorpe: 769 kW
Randolph County Solar Farm in Shellman: 385 kW
Troup County Solar Farm in LaGrange: 769 kW

For more information on this news release, please contact Scott Garrett at 770-826-7366 or scott@garrettgroup.com.

SolAmerica Energy develops, finances, and constructs commercial and utility-scale solar photovoltaic projects. Based in Atlanta, Georgia, SolAmerica Energy has built solar projects for many of the leading companies in the Southeast and has developed projects for nationally recognized investors and owner-operators.
Solar for Landowners
The land on which those solar panels sit behind Langboard is owned by The Langdale Company. It's a lease arrangement, and you may be able to make such an arrangement, as well.
There is a Georgia Power electric substation on GA 33, the Moultrie Road, half way between Sabal Trail's mess on Coffee Road at Okapilco Creek and Quitman. Landowners along that road could probably make a deal with Georgia Power. Landowners on Colquitt EMC could talk to them: that's the utility I'm on, with my 15 kilowatts of solar panels.
SolAmerica is far from the only solar company building in south Georgia, but it has a convenient landowner interest form you can fill out.
-jsq
Investigative reporting costs money, for open records requests, copying, web hosting, gasoline, and cameras, and with sufficient funds we can pay students to do further research. You can donate to LAKE today!
Short Link: