This is all she wrote on Lowndes County's web pages: no agenda, no draft documents. Lowndes County Millage Rate Meeting
Date: August 22, 2017
Time: 5:00 PM - 5:30 PM
Location: Board of Commissioners Administration Building
Address: 327 N. Ashley Street
2nd Floor
Valdosta, GA 31601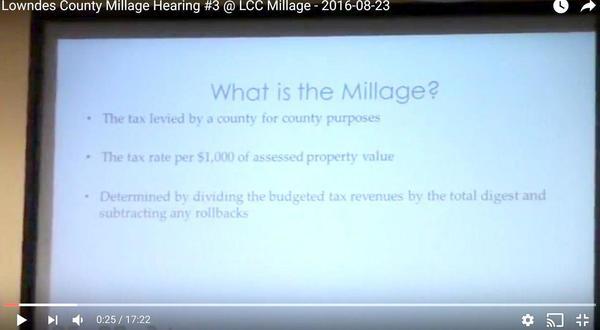 Still from WWALS video of Millage Public Hearing @ LCC Millage 2016-08-23
Rummaging around in the agenda sheet for 6.a. Adoption of Millage on the 5:30 PM Regular Session agenda, we find:
The Board of Commissioners is required to set the county-wide millage for 2017. A public hearing was held prior to this adoption as required. The county-wide millage should be set at 11.224 mills with the County receiving 8.974 mills, the industrial Authority receiving 1.00 mill and the Parks and Recreation Authority receiving 1.25 mills.
By "was held prior" they mean this 5PM Millage Rate Meeting.
They don't say whether the millage is going up or down. It's actually the same as last year, when they raised it, after decreasing it the previous year.
Last year they spent 16 seconds on it in their Work Session, a few people actually did show up and ask questions at the Tuesday 5PM Millage Meeting, and they spent 59 seconds on it in their Regular Session, in which:
Commissioner Mark Wisenbaker wanted to be sure of the millage amount. Chairman Bill Slaughter did not ask for votes against, and then said he wanted the record to show the Chairman voted for as well. I thought the Chairman could only vote if there was a tie.
See also the agenda for the Work Session and tonight's 5:30 PM Regular Session, and the LAKE videos of yesterday morning's Work Session.
-jsq
Investigative reporting costs money, for open records requests, copying, web hosting, gasoline, and cameras, and with sufficient funds we can pay students to do further research. You can donate to LAKE today!
Short Link: