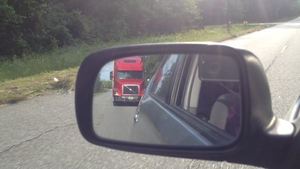 This is what Gretchen meant when she told the Lowndes County Commission trucks too big use Hambrick Road as a short cut, when GA 122 is 0.4 miles farther up Cat Creek Road.
You can see who owns this particular truck, but it's far from the only one. And in case you had any doubt where this is, watch to the end of the video, when you can see the Quarterman Road sign, looking back up Hambrick Road towards Cat Creek Road.

18-wheeler on Hambrick Road, and No Trucks Over 10 Wheels sign
Video by Gretchen Quarterman for Lowndes Area Knowledge Exchange (LAKE),
Hahira, Lowndes County, Georgia.
Gretchen took that video the day after she asked for Local Traffic Only signs on 26 April 2016. After that County Commission meeting, County Engineer Mike Fletcher said he couldn't do that, but he could put up signs for No Trucks over 10 Wheels. And he did, witness these pictures taken May 4th, one week later. Gretchen called and thanked him.
-jsq
Short Link: