LAKE: Sabal Trail Transmission alignment maps 2016-04-07 [Up]
Here are small, big, huge, and PDF versions of all 527 534 of Sabal Trail's April 2016 alignment maps for Alabama, Georgia, and Florida. All river crossings in all three states are named. Those seem to be mostly right, but beware of some of the creek and road names: Sabal Trail's names don't always match the names on other maps. Nonetheless, all names of rivers, creeks, roads, and counties I could extract by scripts from these maps are listed in the map titles below.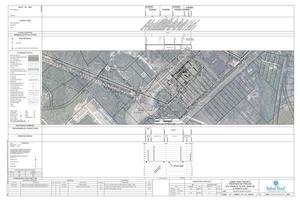 STA. 25458+00 TO STA. 25468+99, PIPING PLOT PLAN REUNION COMPRESSOR STATION (CS-7), PIPING KEY PLAN REUNION COMPRESSOR STATION (CS-7), 25460+09 GULFSTREAM PIPELINE, COMPRESSOR STATION, OSCEOLA COUNTY, FLORIDA
PDF
I separated out these maps from the PDF files in FERC Accession Number 20160407-5081, 7 April 2016, "Sabal Trail Transmission, LLC submits its Implementation Plan—Supplemental Information for the Sabal Trail Project under CP15-17." See also other maps posted on the LAKE blog, with links to other places maps are being posted.
And see Sabal Trail maps digitized by WWALS onto a google map, with links back to these alignment maps, plus numerous aerial and ground photographs. Here's a direct link to that digitized map.
To look at a blank google map for finding latlongs, click here: https://www.google.com/maps/.
How to view these maps
Below are small images of each map. Click on any small image for a larger image. If that's not big enough, click again for a huge image. If that's not big enough, click on the PDF link below any small image for a one-page PDF file containing that image.
Please enter a station number in one of these formats:
STA 123
STA. 123
STA 123+00
STA. 123+00
123+00
If you want to help, you can:
Find the later route variations Sabal Trail filed with FERC at later dates and send them here, to lakesubmissions@gmail.com.
Or publish them yourself and send a link.

Supply GPS coordinates for these maps.
Look at map index below to find a map that does not have latitude and longitude.
Click on that map to go to its map page.
Since it doesn't already have coordinates, you'll see text boxes and a submit button.

To pick GPS coordinates, look at the alignment map and choose a spot somewhere on the pipeline path in that map.

You can get the latlong to fill in by using a separate google map.
Pan and zoom until you find the desired location.
Click on the map and the latitude and longitude will show up.
Cut those coordinates with your mouse,
and paste them into the GPS text box on the alignment map page.

There's also an Other box if you want to add notes about who lives near there, etc.

Then click submit, and it goes into a log file which I will check later for additions.
The other two parts of the Southeast Markets Pipeline Project (SMPP)
For Williams Transco's Hillabee Expansion Project across Alabama and FPL's Florida Southeast Connection from south of Orlando to Martin County, Florida, see SMPP.
-jsq
Investigative reporting costs money, for open records requests, copying, web hosting, gasoline, and cameras, and with sufficient funds we can pay students to do further research. You can donate to LAKE today!
Contents
These context maps (spreads) have rectangles on them each numbered matching the alignment map number for that location.
Spread 1: Alabama
Spread 2: Stewart to Colquitt Co., GA, 31.46, -84.095
Spread 3: Mitchell to Lowndes Co., GA, 31.373898, -84.038322
Spread 4: Suwannee, Gilchrist, Alachua, Levy, Marion Co., FL
Spread 5: Gilchrist to Lake and Citrus Co., FL including Citrus County Pipeline
Spread 6: Sumter to Osceola Co., FL including Hunters Creek Pipeline
Alabama
Tallapoosa County, AL, Chambers County, AL, Lee County, AL, Russell County, AL,
Georgia
Stewart County, GA, Webster County, GA, Terrell County, GA, Lee County, GA, Dougherty County, GA, Mitchell County, GA, Colquitt County, GA, Brooks County, GA, Lowndes County, GA,
Florida
Yes, Levy County, FL shows up three times; don't ask me; ask Sabal Trail.
Hamilton County, FL, Suwannee County, FL, Gilchrist County, FL, Alachua County, FL, Levy County, FL,
Citrus Co. Pipeline in Marion and Citrus Counties, FL,
Citrus County, FL, Levy County, FL, Marion County, FL, Levy County, FL, Marion County, FL, Sumter County, FL,
Hunters Creek Pipeline, mostly in Osceola County, ending in Orange County, FL,
Sumter County, FL, Lake County, FL, Polk County, FL, Osceola County, FL.
The 527 Sabal Trail Aligment Maps from April 2016

1657-PL-DG-70197-021, STA. 1060+00 TO STA. 1113+00, MP 20.08, MP 21.08, ANDREWS BRANCH), (DUDLEYVILLE ROAD/, CAMP-HILL ROAD), LOC. TALLAPOOSA & CHAMBERS COUNTIES, ALABAMA
PDF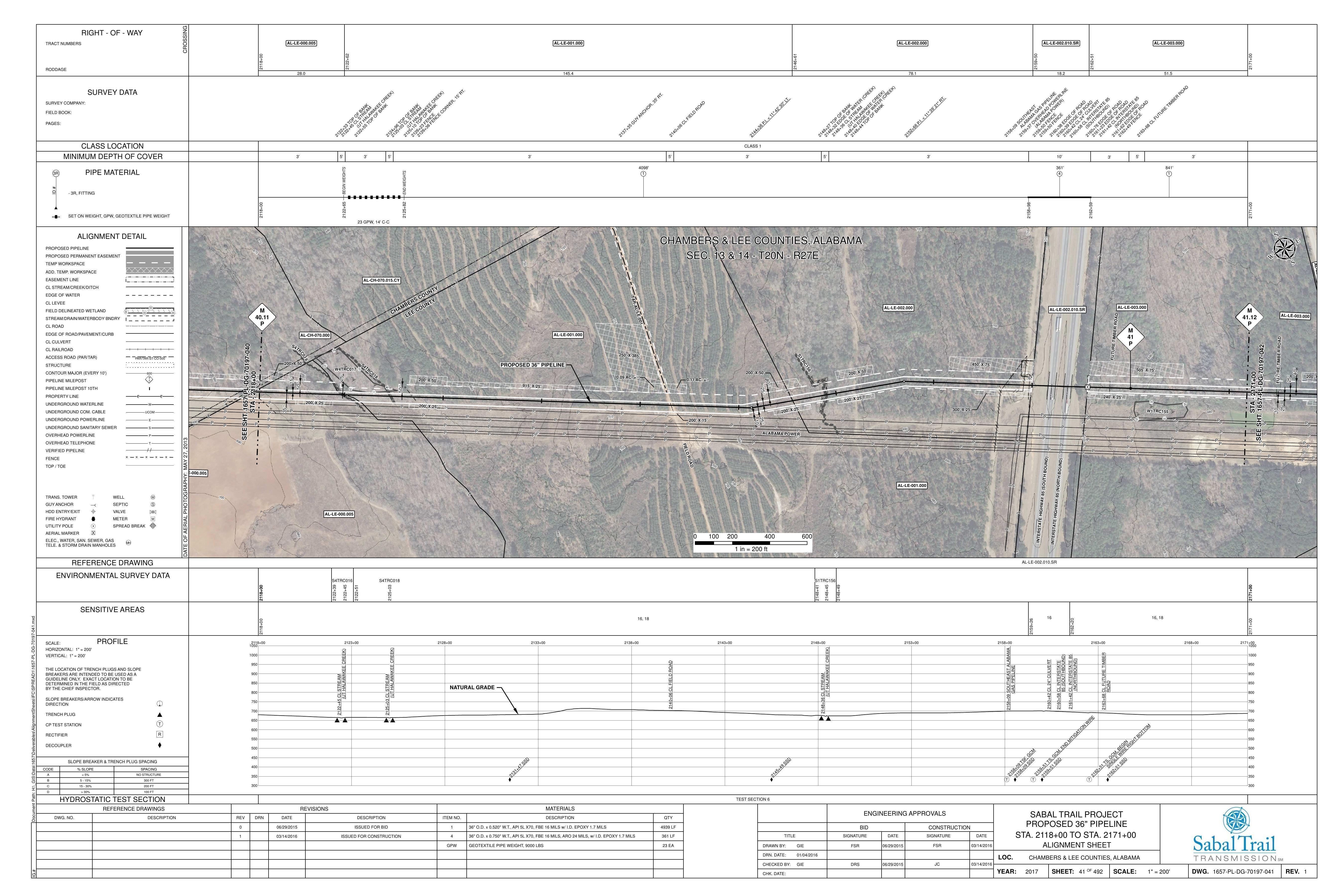 1657-PL-DG-70197-041, STA. 2118+00 TO STA. 2171+00, MP 40.11, MP 41, MP 41.12, GAS PIPELINE, (UT HALAWAKEE CREEK), CHAMBERS & LEE COUNTIES, ALABAMA
PDF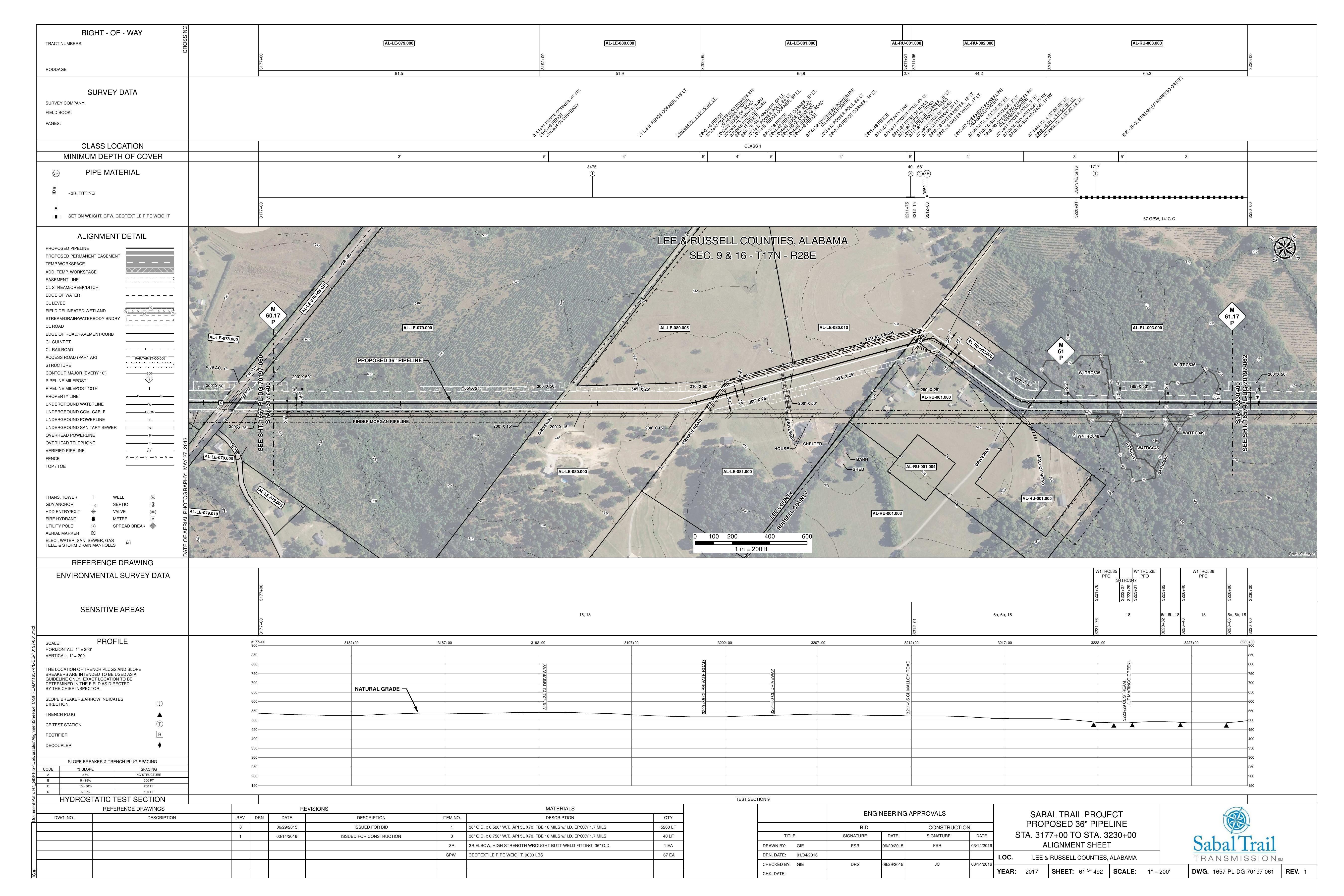 1657-PL-DG-70197-061, STA. 3177+00 TO STA. 3230+00, MP 60.17, MP 61, MP 61.17, (UT MARINGO CREEK), 3211+95 CL MALLOY ROAD, KINDER MORGAN PIPELINE, LEE & RUSSELL COUNTIES, ALABAMA
PDF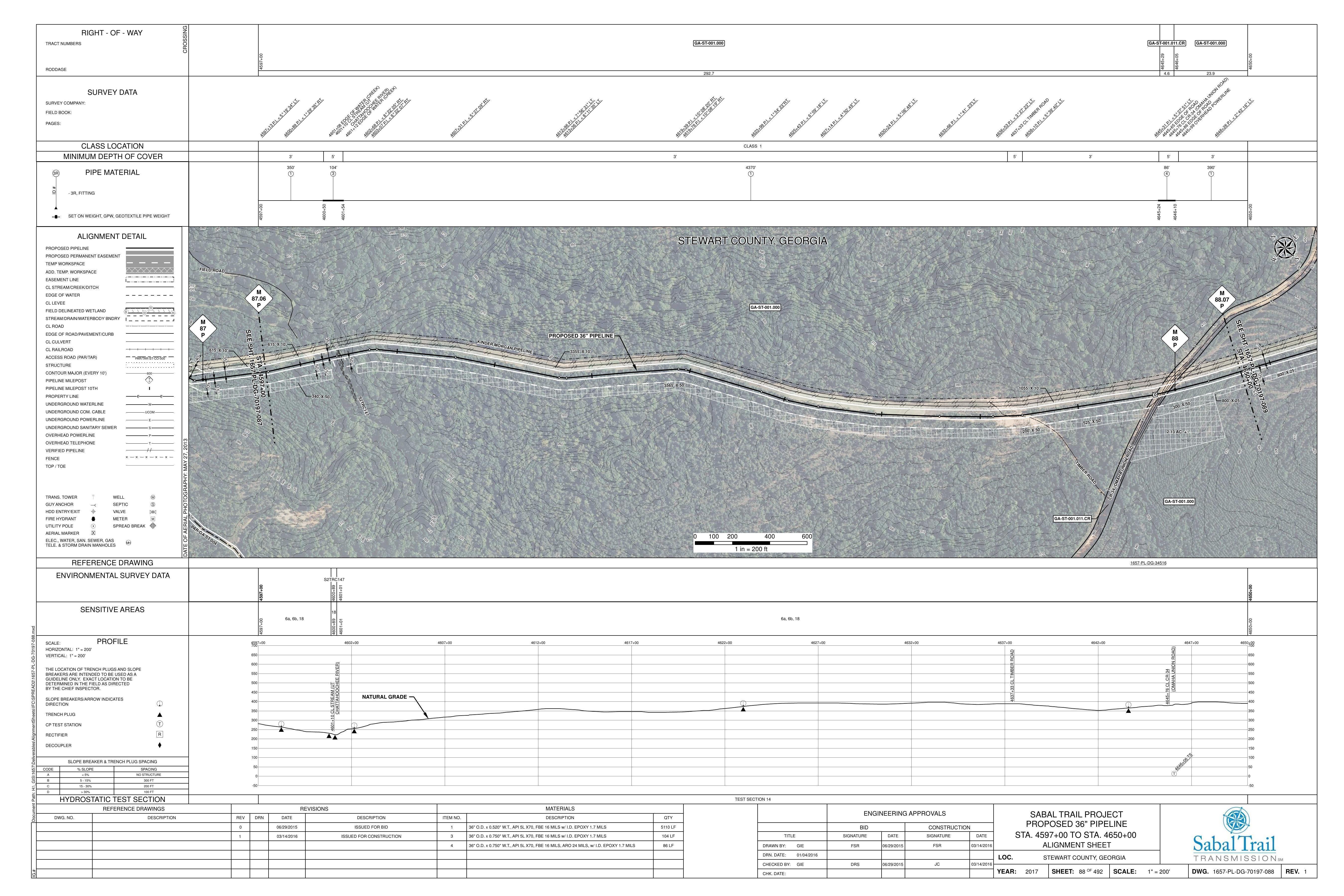 1657-PL-DG-70197-088, STA. 4597+00 TO STA. 4650+00, MP 87, MP 87.06, MP 88, MP 88.07, CHATTAHOOCHEE RIVER), (OMAHA UNION ROAD), STEWART COUNTY, GEORGIA
PDF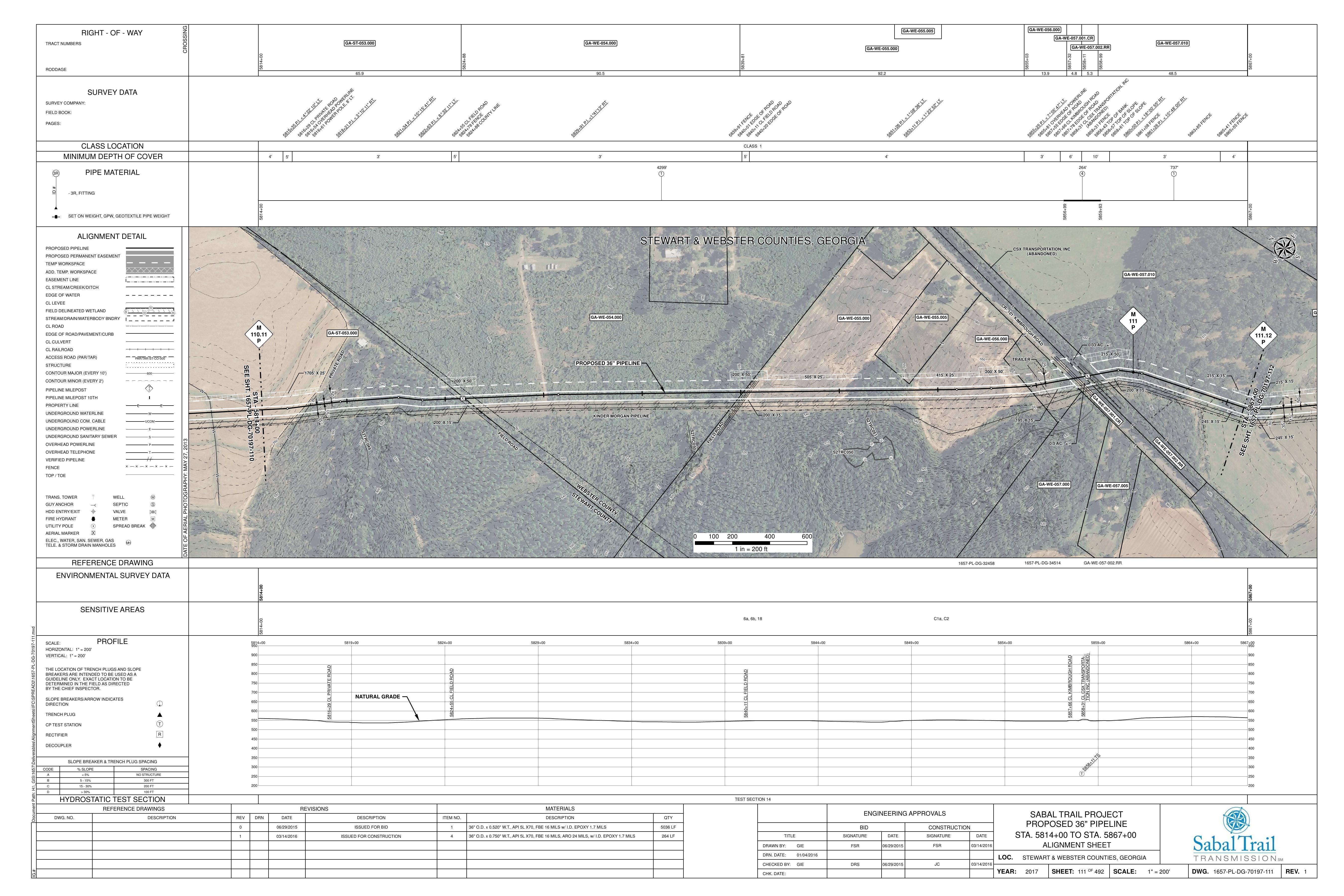 1657-PL-DG-70197-111, STA. 5814+00 TO STA. 5867+00, MP 110.11, MP 111, MP 111.12, KINDER MORGAN PIPELINE, 5857+66 CL KIMBROUGH ROAD, STEWART & WEBSTER COUNTIES, GEORGIA
PDF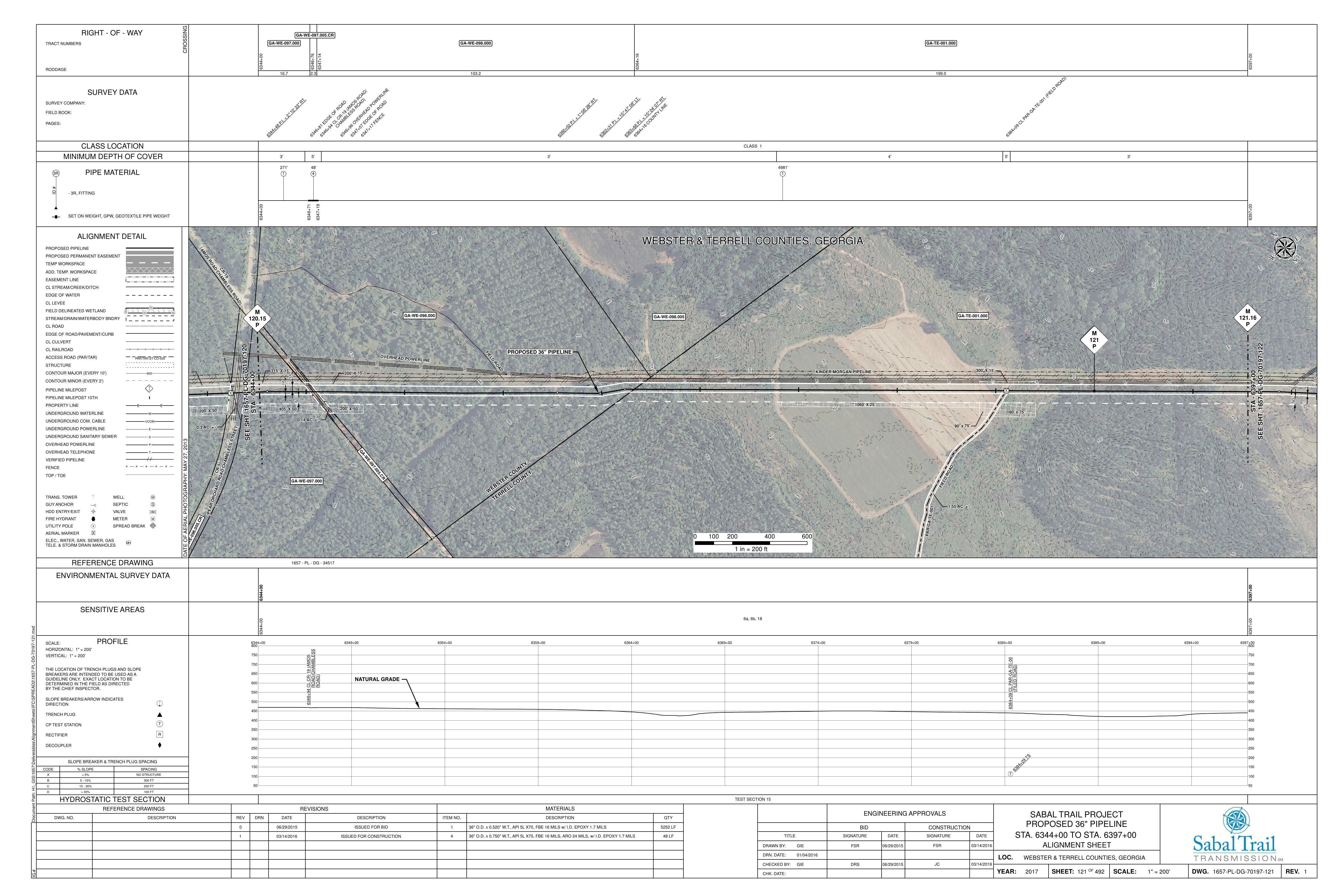 1657-PL-DG-70197-121, STA. 6344+00 TO STA. 6397+00, MP 120.15, MP 121, MP 121.16, KINDER MORGAN PIPELINE, WEBSTER & TERRELL COUNTIES, GEORGIA
PDF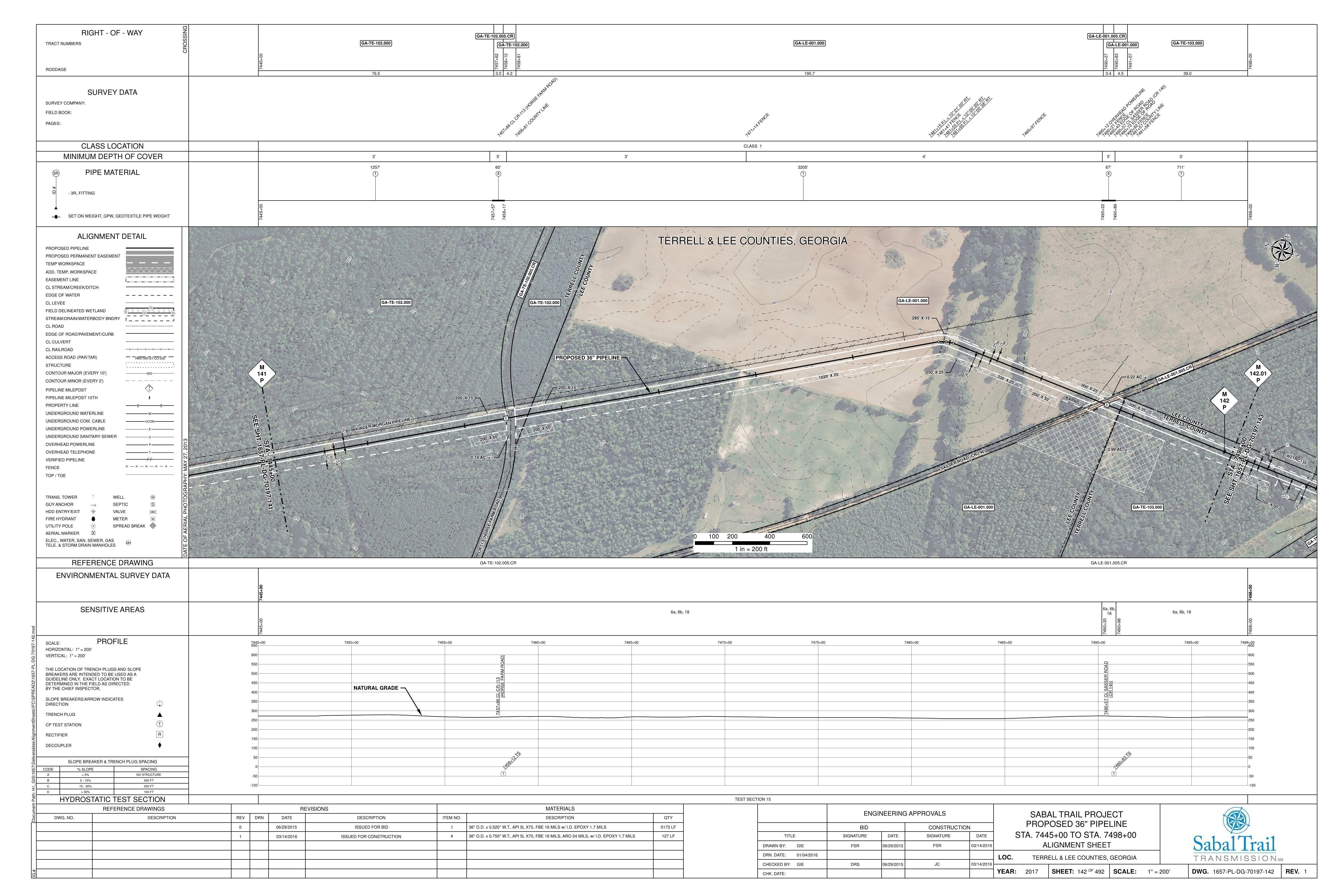 1657-PL-DG-70197-142, STA. 7445+00 TO STA. 7498+00, MP 141, MP 142, MP 142.01, 7490+57 CL SASSER ROAD, (HORSE FARM ROAD), TERRELL & LEE COUNTIES, GEORGIA
PDF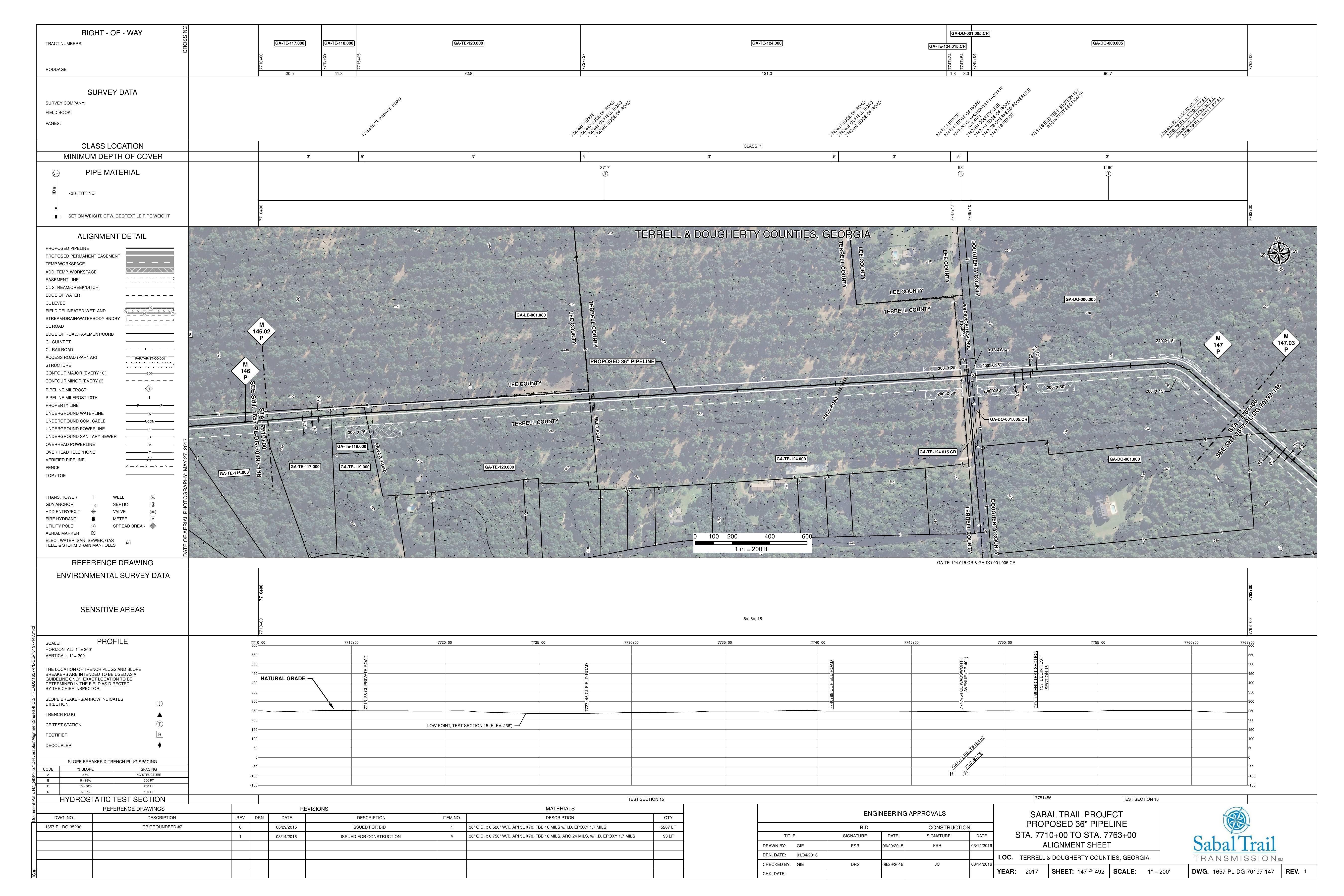 1657-PL-DG-70197-147, STA. 7710+00 TO STA. 7763+00, MP 146, MP 146.02, MP 147, MP 147.03, TERRELL COUNTY, LEE COUNTY, TERRELL & DOUGHERTY COUNTIES, GEORGIA
PDF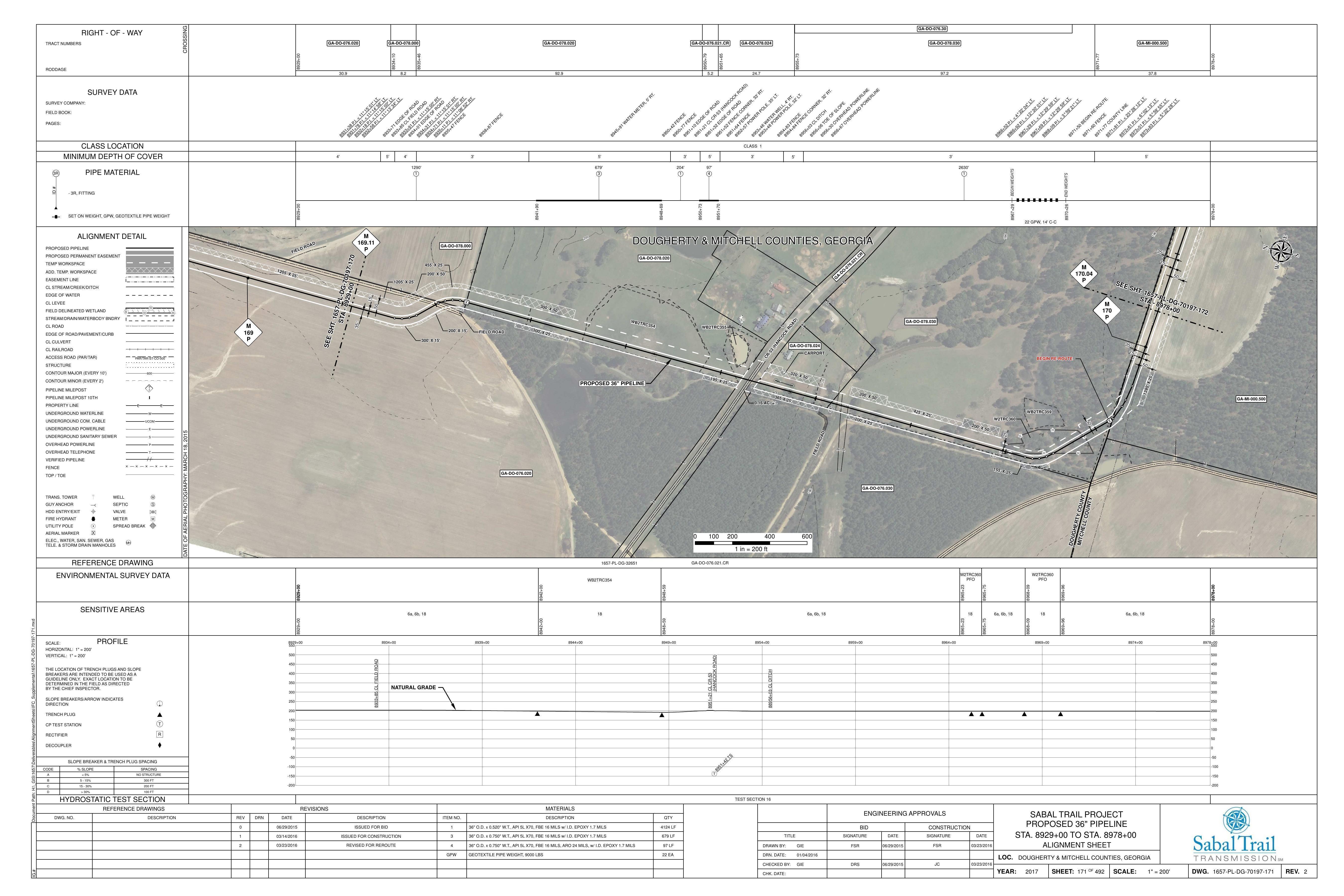 1657-PL-DG-70197-171, STA. 8929+00 TO STA. 8978+00, MP 169, MP 169.11, MP 170, MP 170.04, (HANCOCK ROAD), Albany, DOUGHERTY & MITCHELL COUNTIES, GEORGIA, 31.4482340, -84.0943160
PDF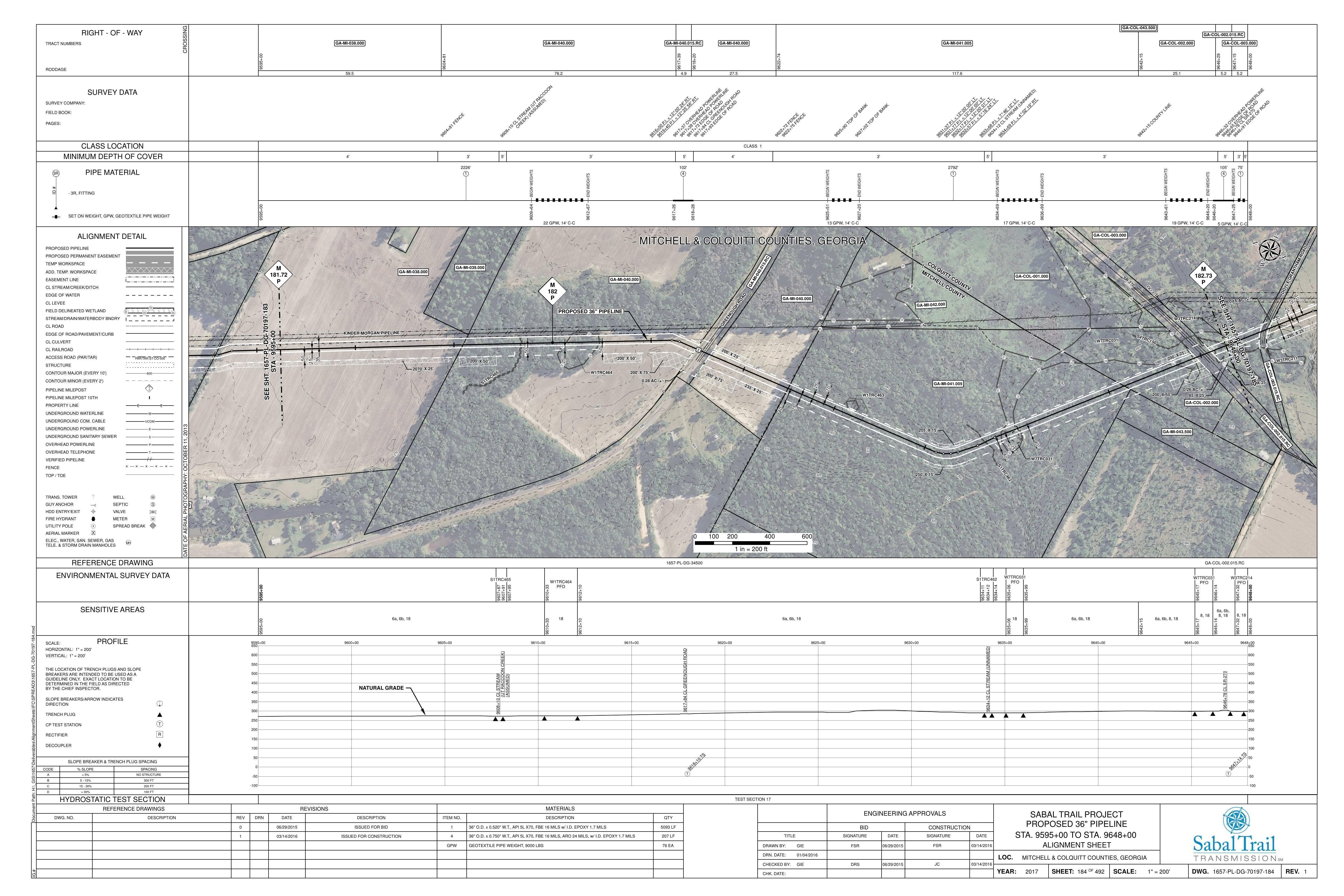 1657-PL-DG-70197-184, STA. 9595+00 TO STA. 9648+00, MP 181.72, MP 182, MP 182.73, 9646+78 CL SR-270, 9617+84 CL GREENOUGH ROAD ,e. of Old Doerun Rd., Sale City, GA 31784, (UT RACCOON CREEK), KINDER MORGAN PIPELINE, MITCHELL & COLQUITT COUNTIES, GEORGIA, 31.2967680, -84.0035340
PDF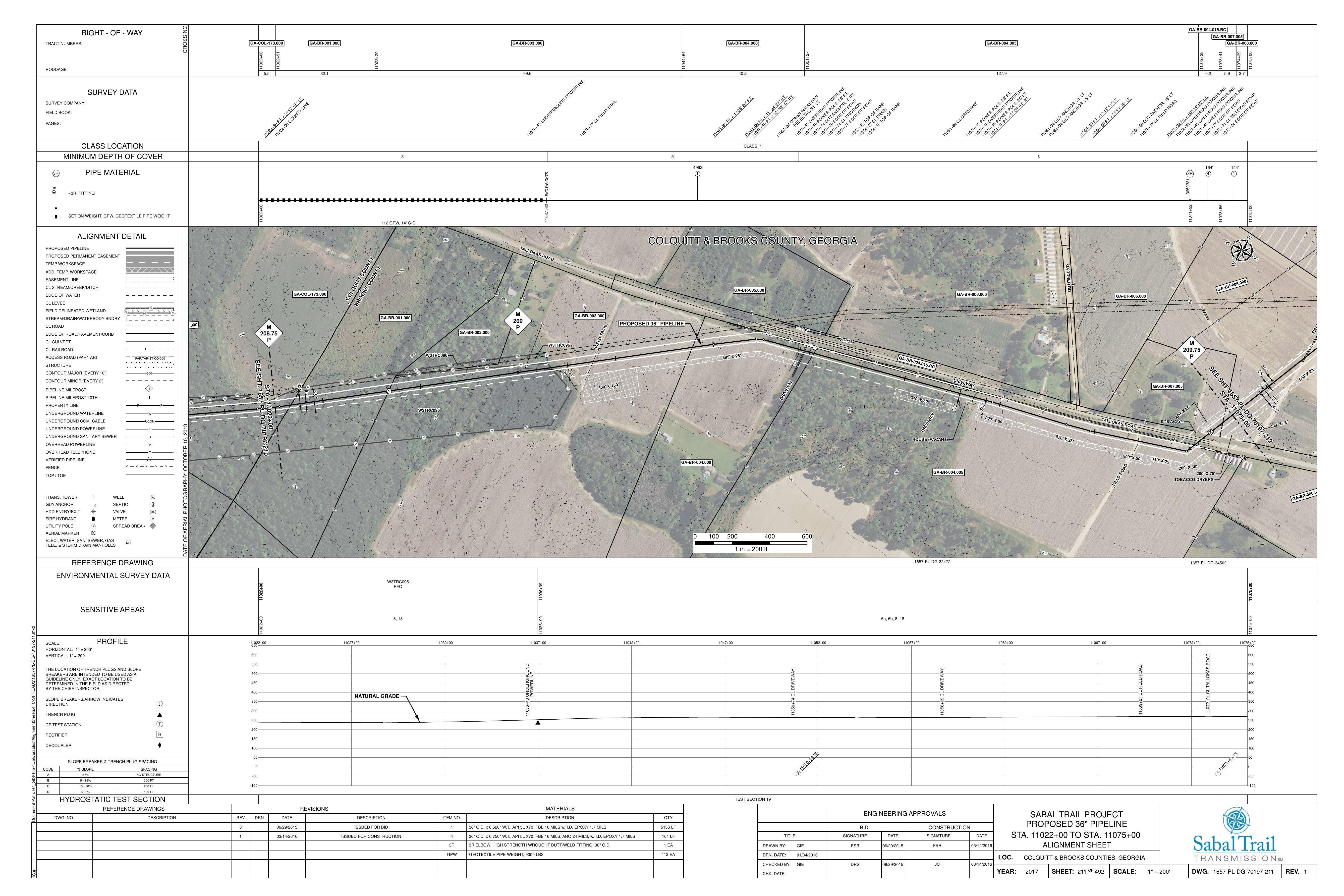 1657-PL-DG-70197-211, STA. 11022+00 TO STA. 11075+00, MP 208.75, MP 209, MP 209.75, 11072+91 CL TALLOKAS ROAD, Gardner Road, COLQUITT & BROOKS COUNTIES, GEORGIA, COLQUITT & BROOKS COUNTY, GEORGIA, 31.0318720, -83.6931440
PDF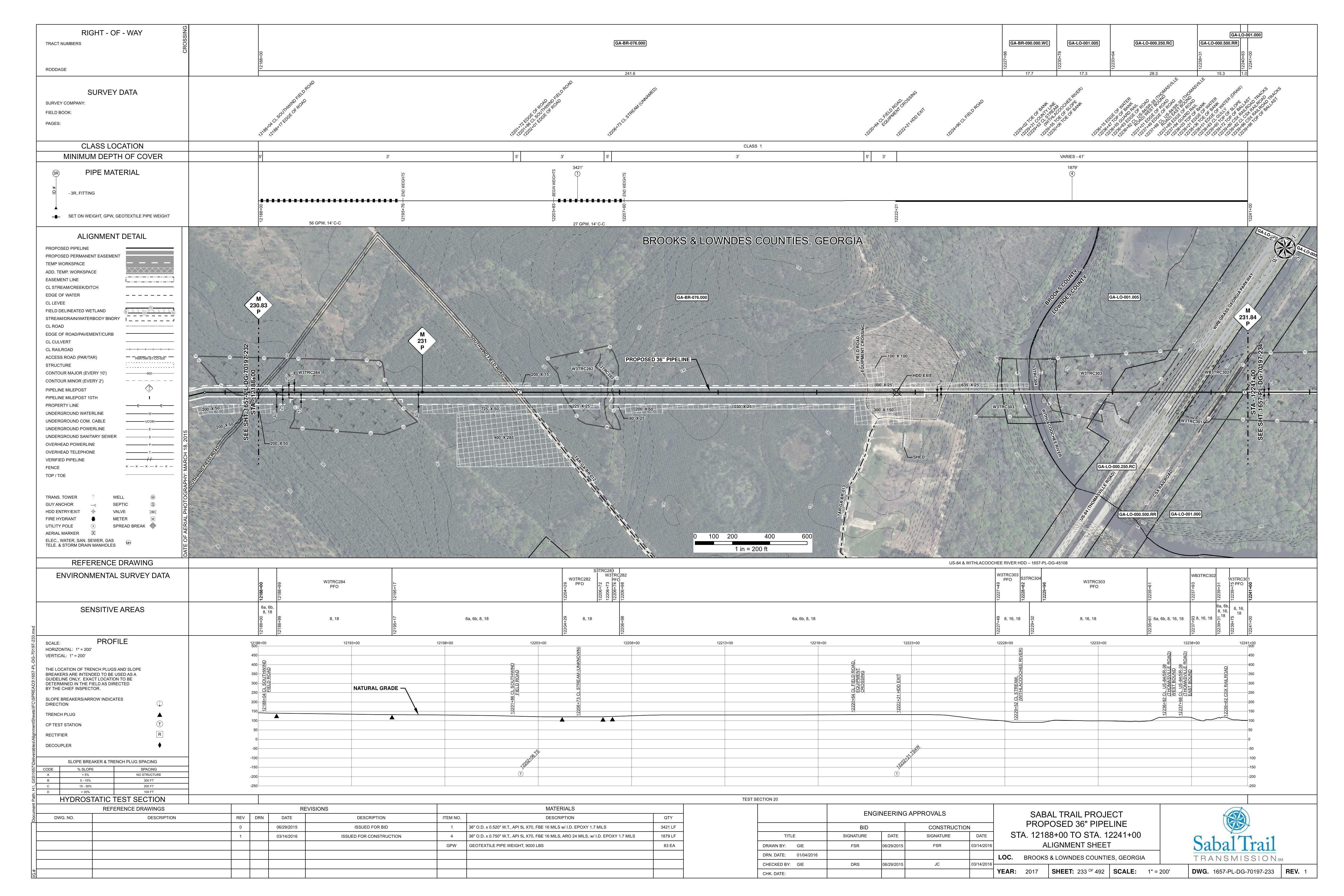 1657-PL-DG-70197-233, STA. 12188+00 TO STA. 12241+00, MP 230.83, MP 231, MP 231.84, HDD, WIthlacoochee RIver, CL US-84/CR-38 (THOMASVILLE ROAD), CL CSX RAILROAD, US 221, Wiregrass Georgia Parkway, BROOKS & LOWNDES COUNTIES, GEORGIA, 30.7957490, -83.4531780
PDF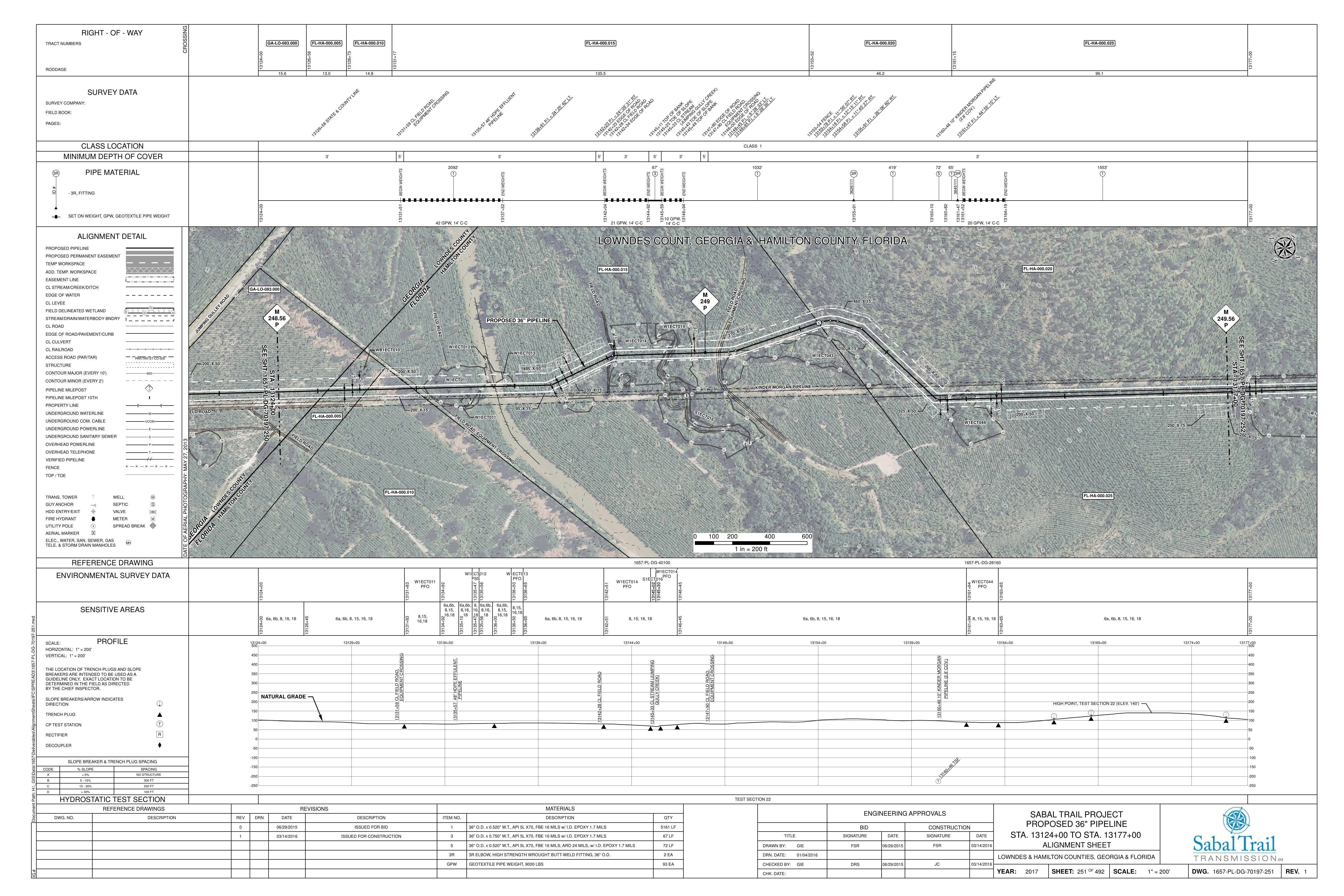 1657-PL-DG-70197-251, STA. 13124+00 TO STA. 13177+00, MP 248.56, MP 249, MP 249.56, KINDER MORGAN PIPELINE, PIPELINE (2.8' COV.), JUMPING GULLY CREEK), GA-FL Line, LOWNDES & HAMILTON COUNTIES, GEORGIA & FLORIDA, 30.6281120, -83.2679610
PDF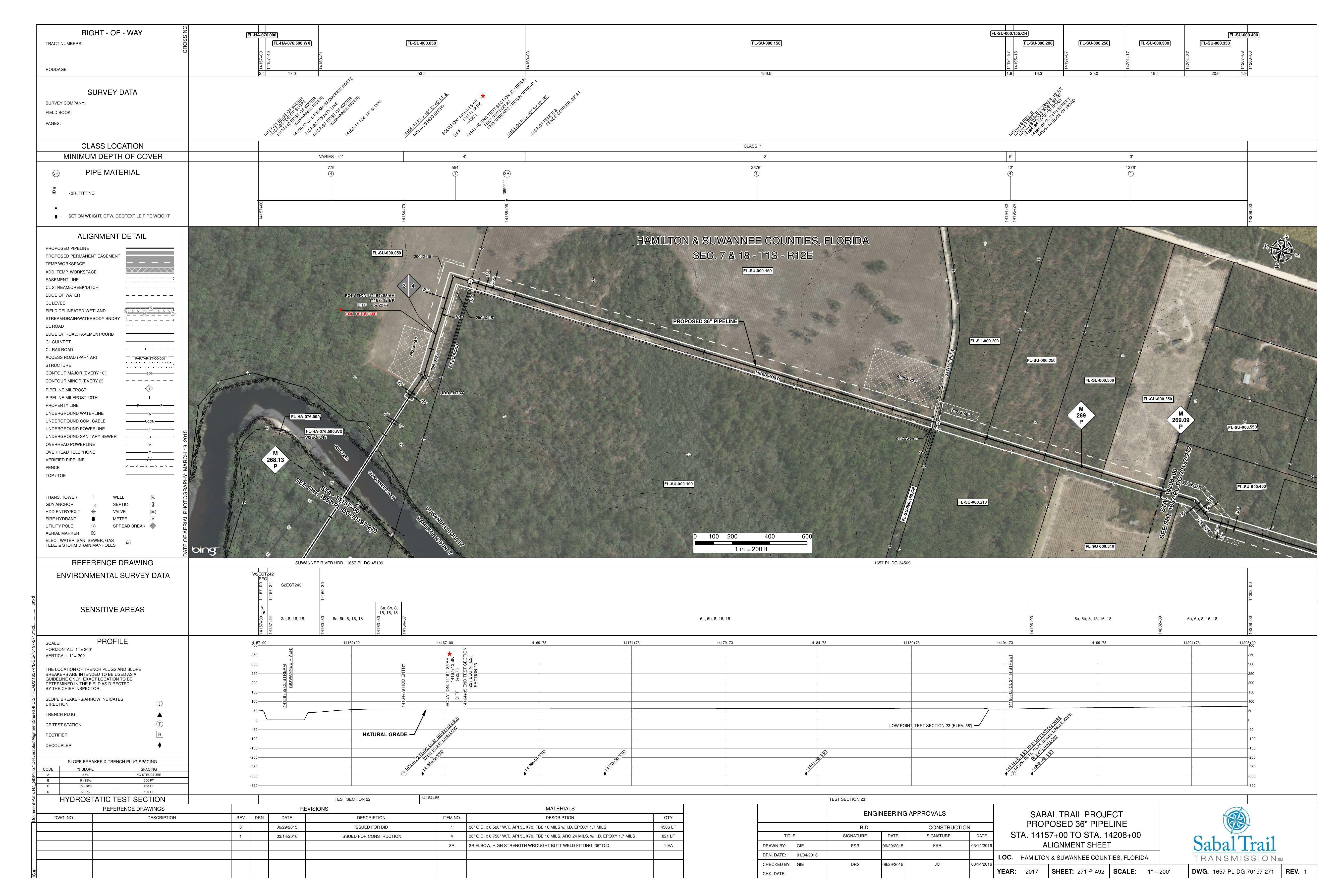 1657-PL-DG-70197-271, STA. 14157+00 TO STA. 14208+00, MP 268.13, MP 269.09, 14195+05 CL 24TH STREET, (SUWANNEE RIVER), SUWANNEE RIVER HDD - 1657-PL-DG-45109, HAMILTON & SUWANNEE COUNTIES, FLORIDA, 30.4065870, -83.1541970
PDF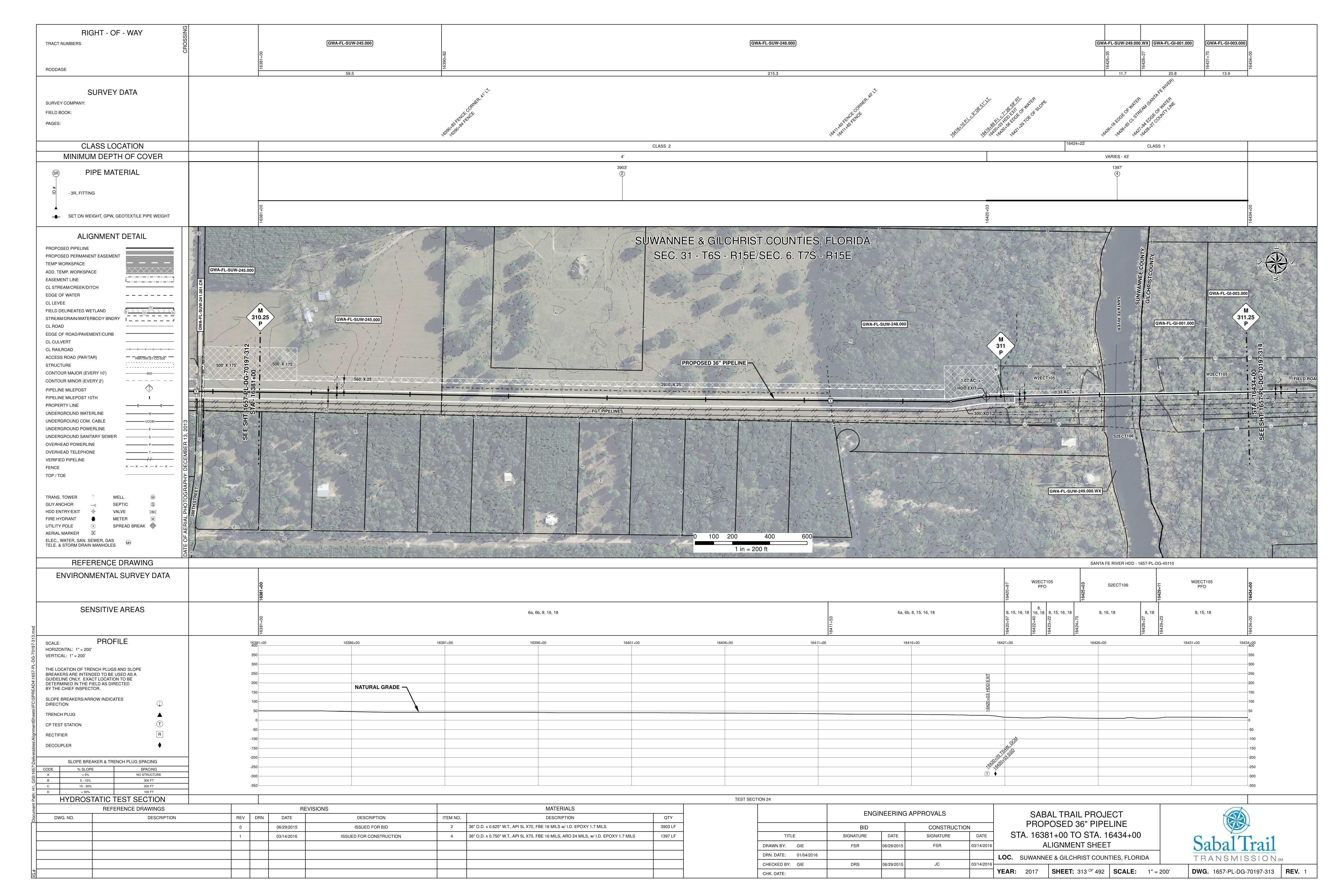 1657-PL-DG-70197-313, STA. 16381+00 TO STA. 16434+00, MP 310.25, MP 311, MP 311.25, SANTA FE RIVER HDD - 1657-PL-DG-45110, FGT PIPELINES, SANTA FE RIVER, SUWANNEE & GILCHRIST COUNTIES, FLORIDA, 29.9157150, -82.8514320
PDF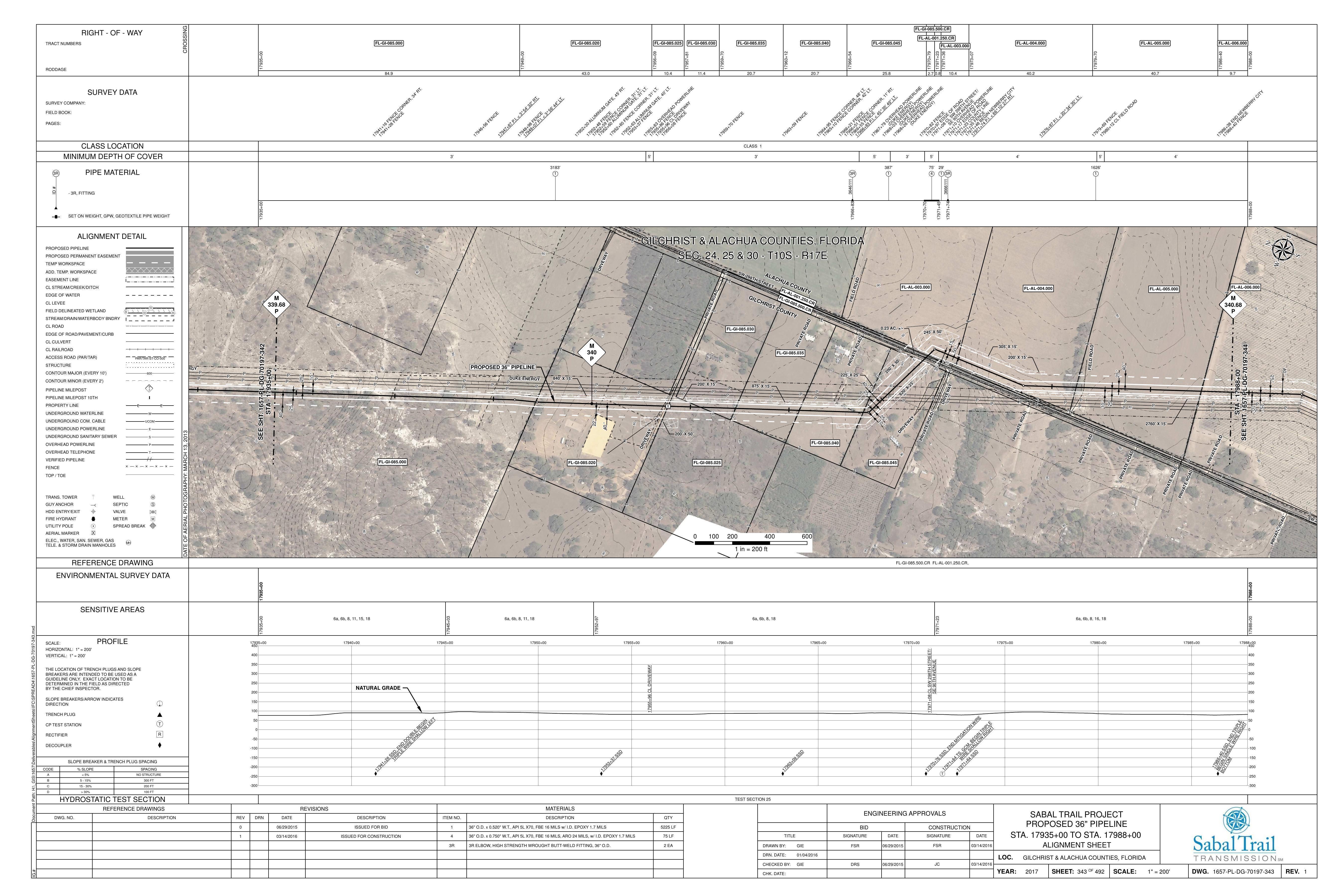 1657-PL-DG-70197-343, STA. 17935+00 TO STA. 17988+00, MP 339.68, MP 340.68, FL-GI-085.500.CR FL-AL-001.250.CR,, 17971+08 CL SW 298TH STREET/, I-08, GILCHRIST & ALACHUA COUNTIES, FLORIDA
PDF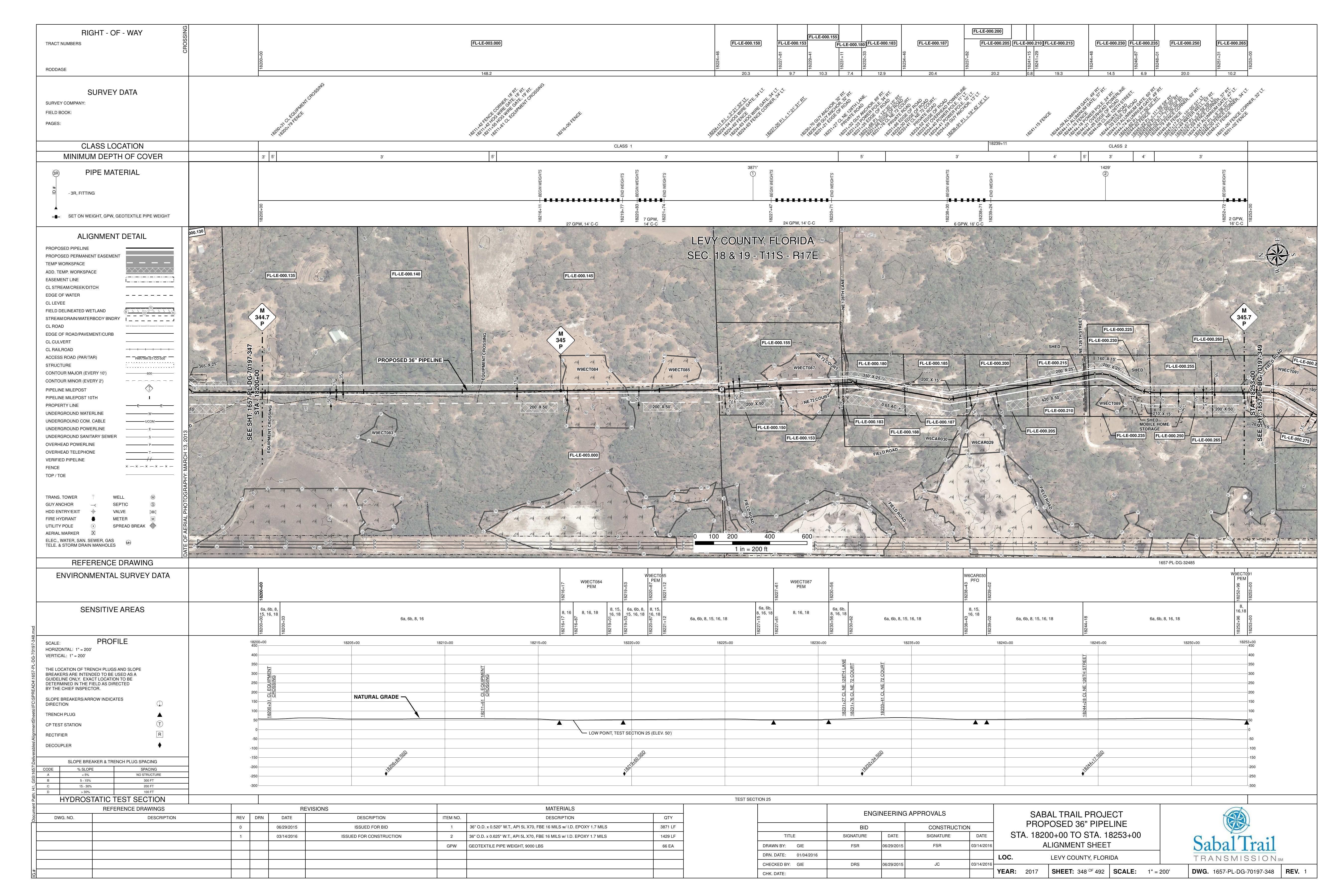 1657-PL-DG-70197-348, STA. 18200+00 TO STA. 18253+00, MP 344.7, MP 345, MP 345.7, NE 128TH LANE, NE 126TH STREET, 18244+28 CL NE 126TH STREET, 18231+27 CL NE 128TH LANE, LEVY COUNTY, FLORIDA
PDF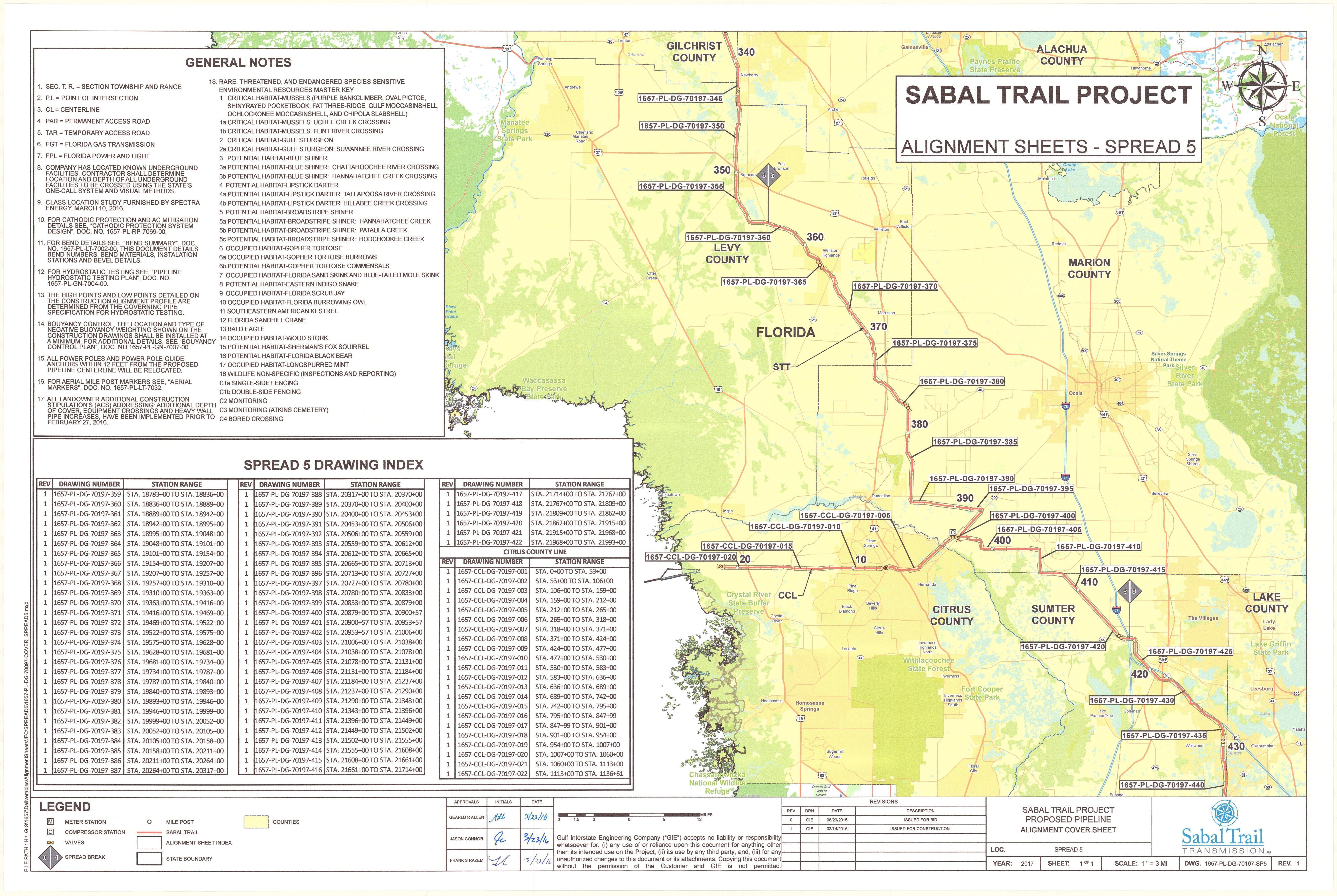 Spread 5: Gilchrist to Lake and Citrus Co., FL including Citrus County Pipeline, 29.0051210, -82.3410520
PDF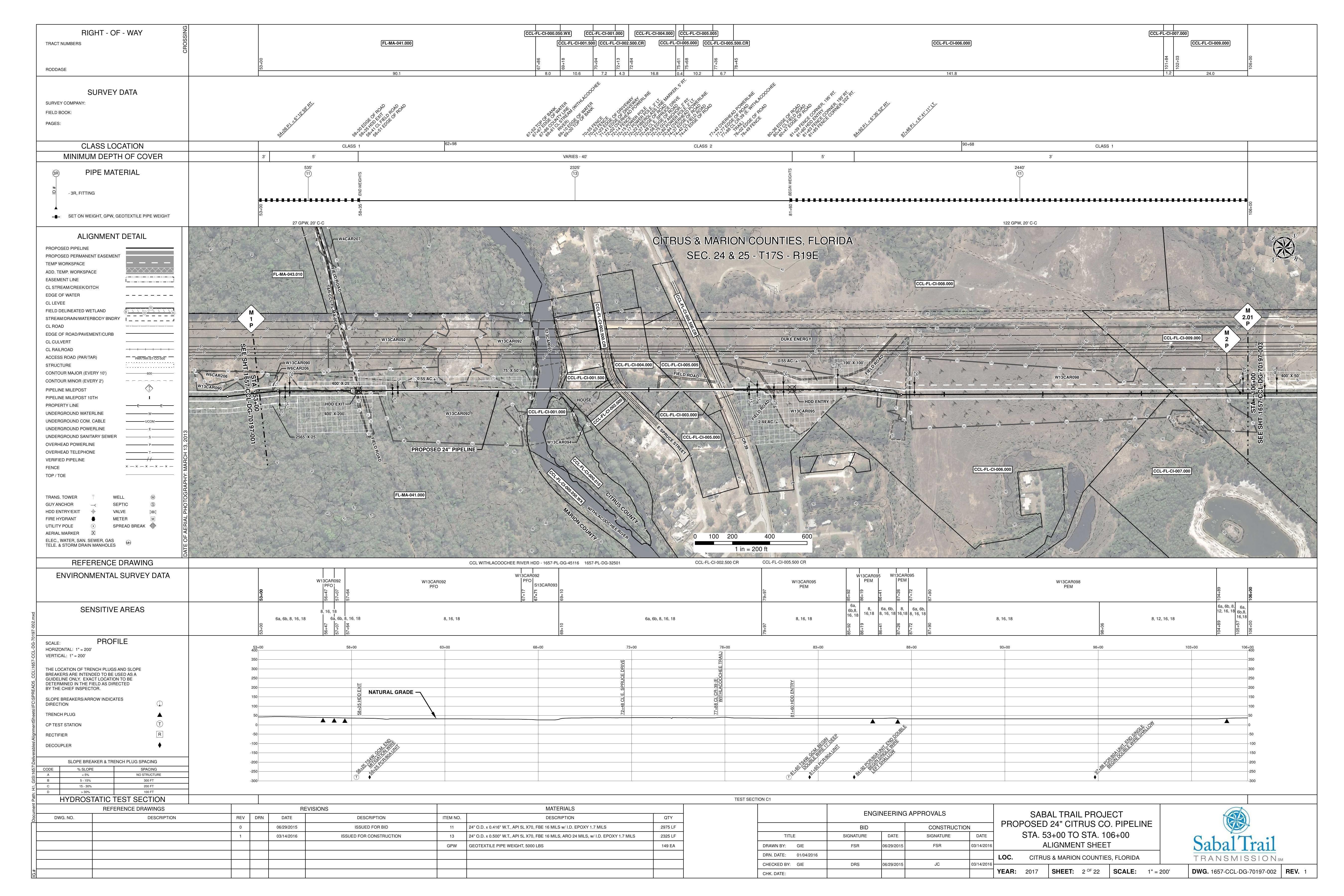 1657-CCL-DG-70197-002, STA. 53+00 TO STA. 106+00, CCL WITHLACOOCHEE RIVER HDD - 1657-PL-DG-45116, E Withlacoochee Trail, E. Spruce Drive, PROPOSED 24-inch CITRUS CO. PIPELINE, CITRUS & MARION COUNTIES, FLORIDA, 28.9900200, -82.3605700
PDF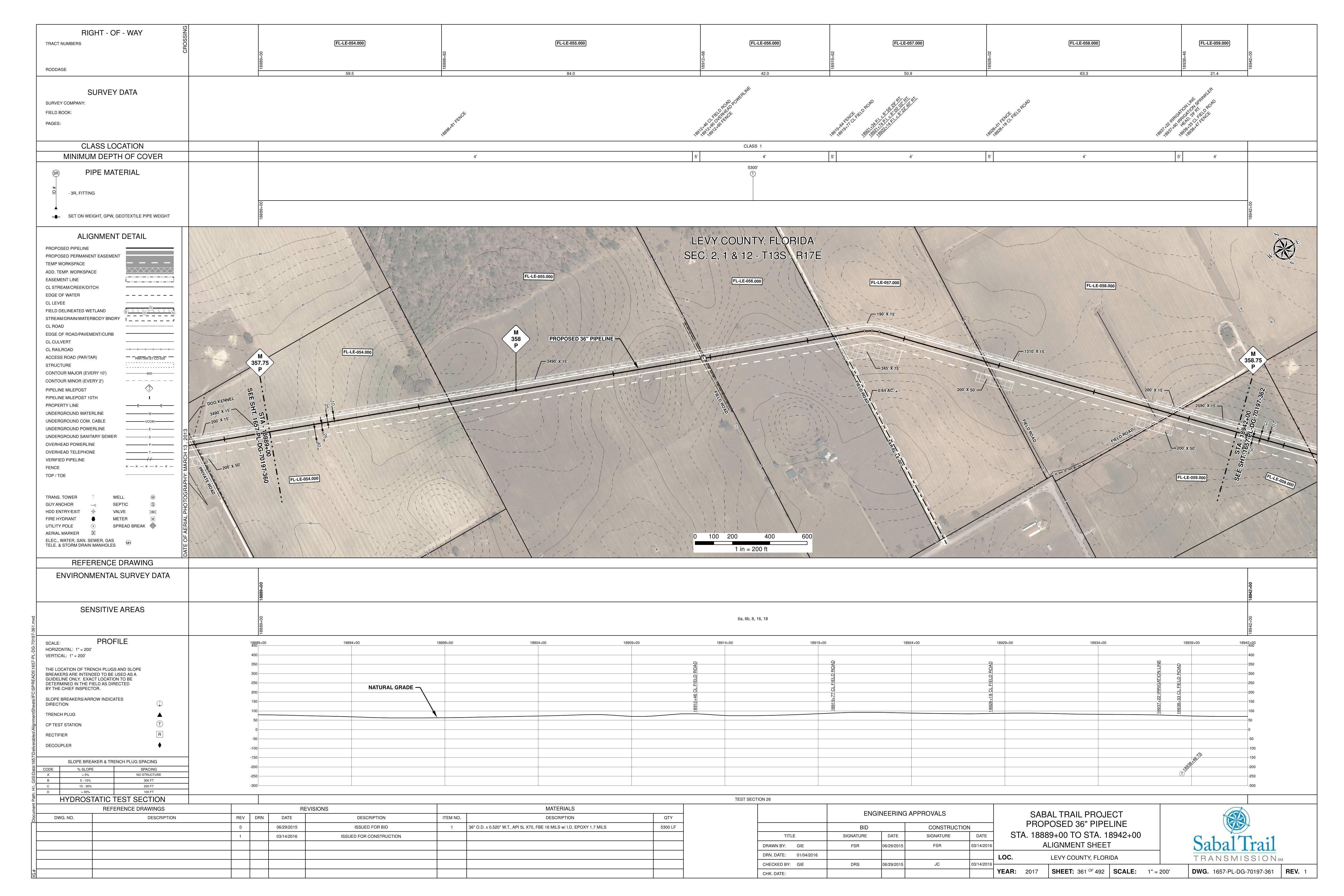 1657-PL-DG-70197-361, STA. 18889+00 TO STA. 18942+00, MP 358, MP 358.75, STT MP 358.0, LEVY COUNTY, FLORIDA, 29.3826750, -82.5808417
PDF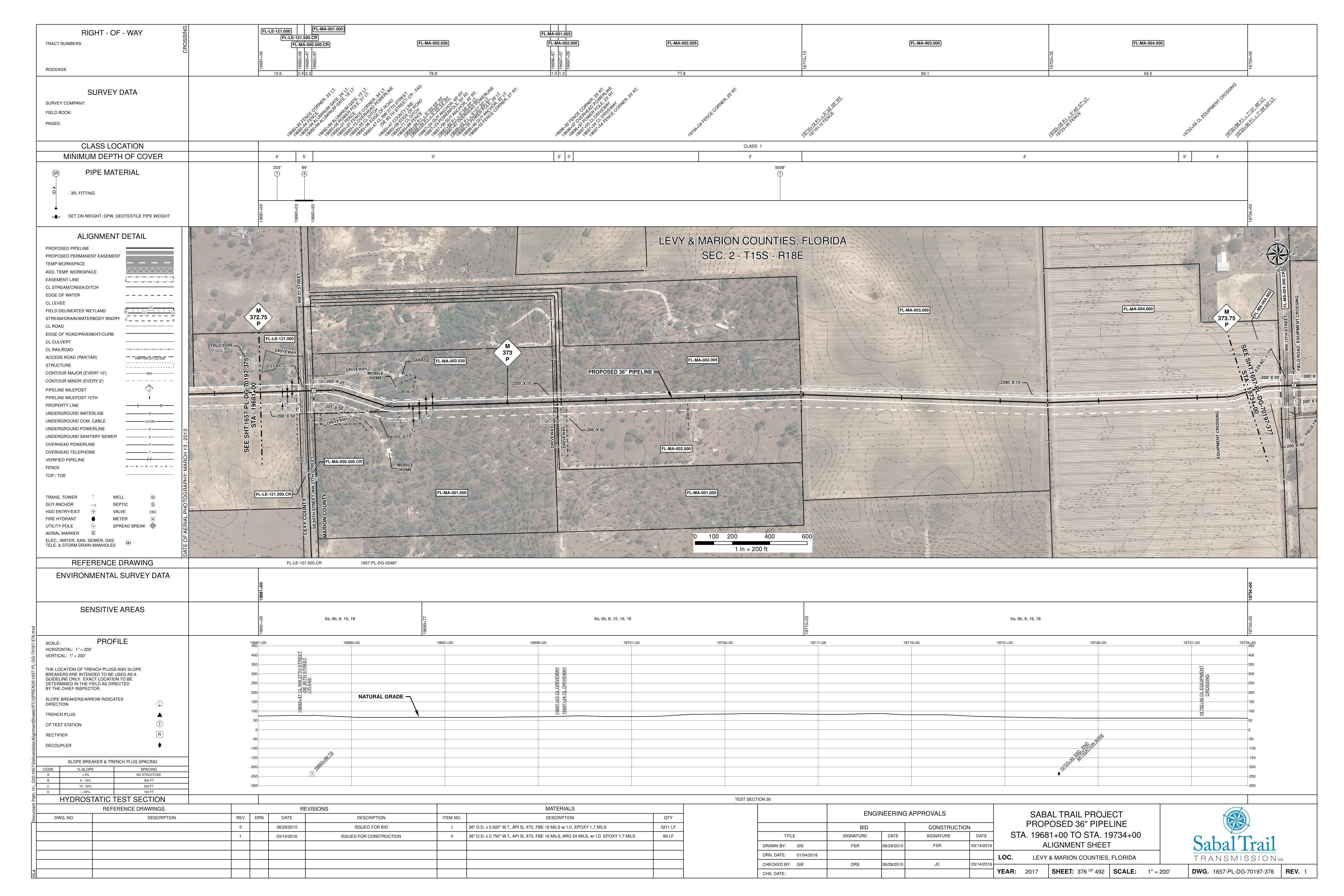 1657-PL-DG-70197-376, STA. 19681+00 TO STA. 19734+00, MP 372.75, MP 373, MP 373.75, NW 13TH STREET, SE 80TH STREET, NW 27 STREET, 19683+47 CL NW 27TH STREET, STREET, STT MP 372.8, MARION COUNTY, LEVY COUNTY, LEVY & MARION COUNTIES, FLORIDA, 29.2150694, -82.4554806
PDF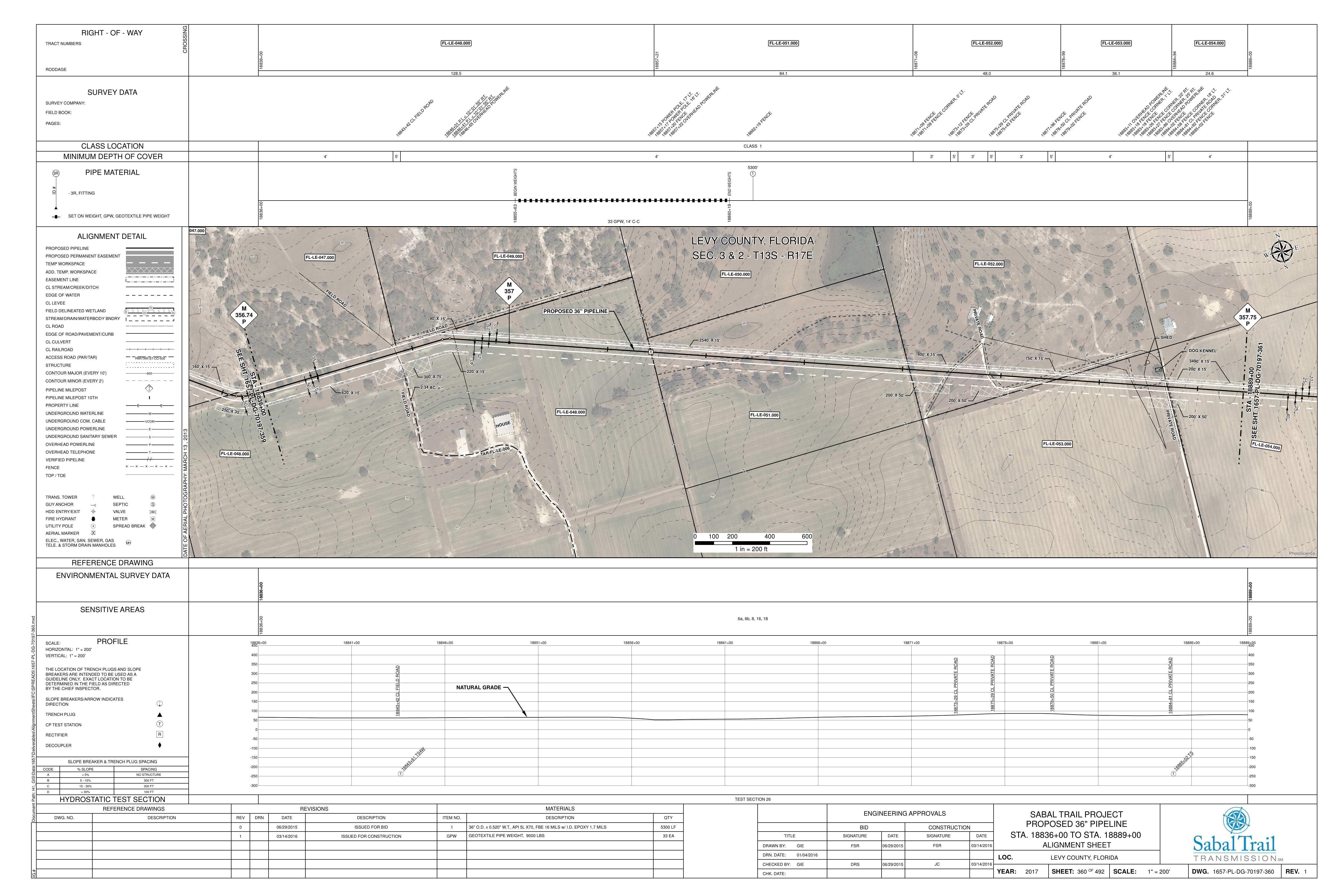 1657-PL-DG-70197-360, STA. 18836+00 TO STA. 18889+00, MP 356.74, MP 357, MP 357.75, STT MP 357.0, LEVY COUNTY, FLORIDA, 29.3872222, -82.5965889
PDF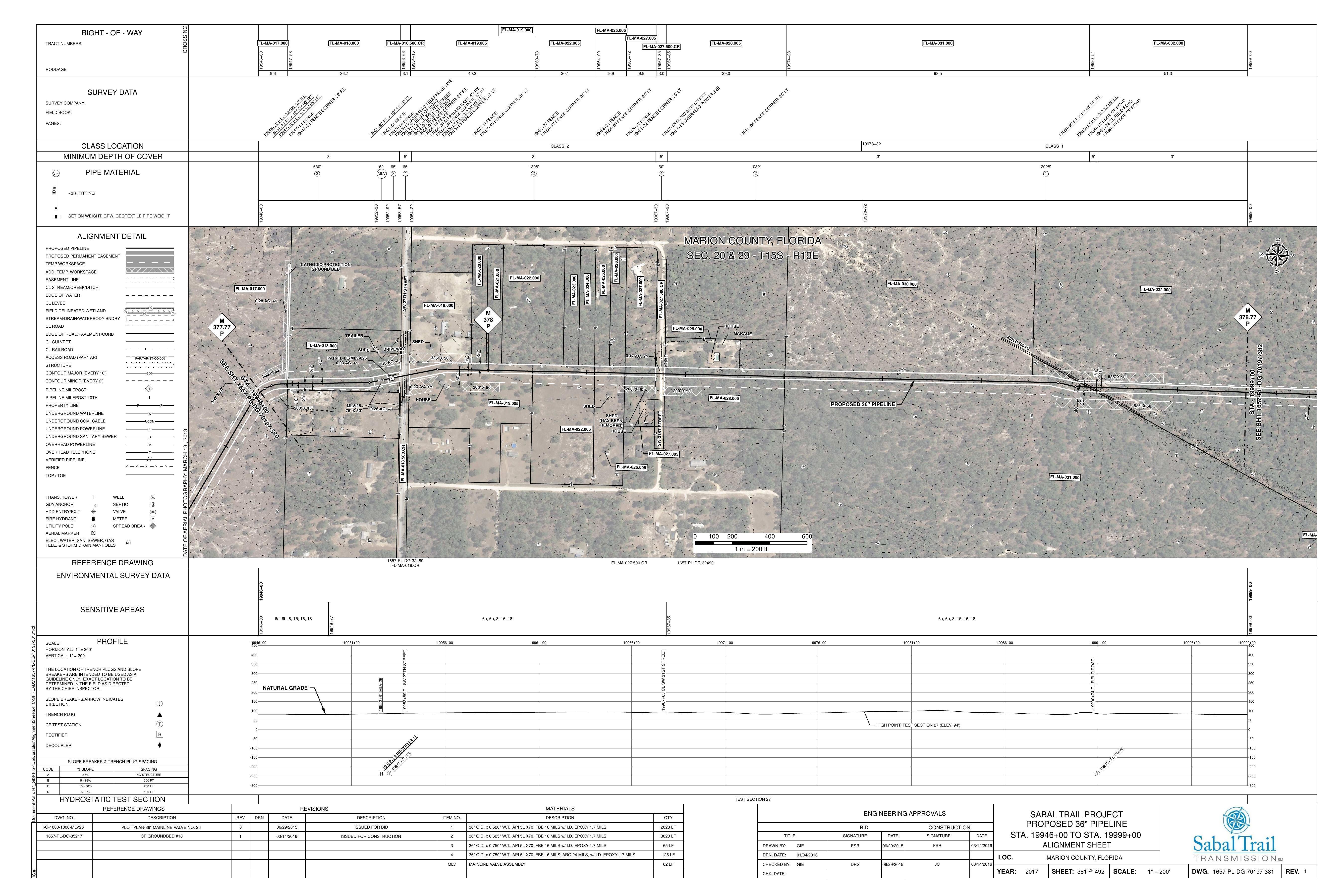 1657-PL-DG-70197-381, STA. 19946+00 TO STA. 19999+00, MP 377.77, MP 378, MP 378.77, 19953+89 CL SW 27TH STREET, 19967+65 CL SW 31ST STREET, SW 31ST STREET, SW 27TH STREET, STT MP 377.9. This is the Mainline Valve in Lake Tropicana Subdivision, MARION COUNTY, FLORIDA, 29.1629889, -82.4078667
PDF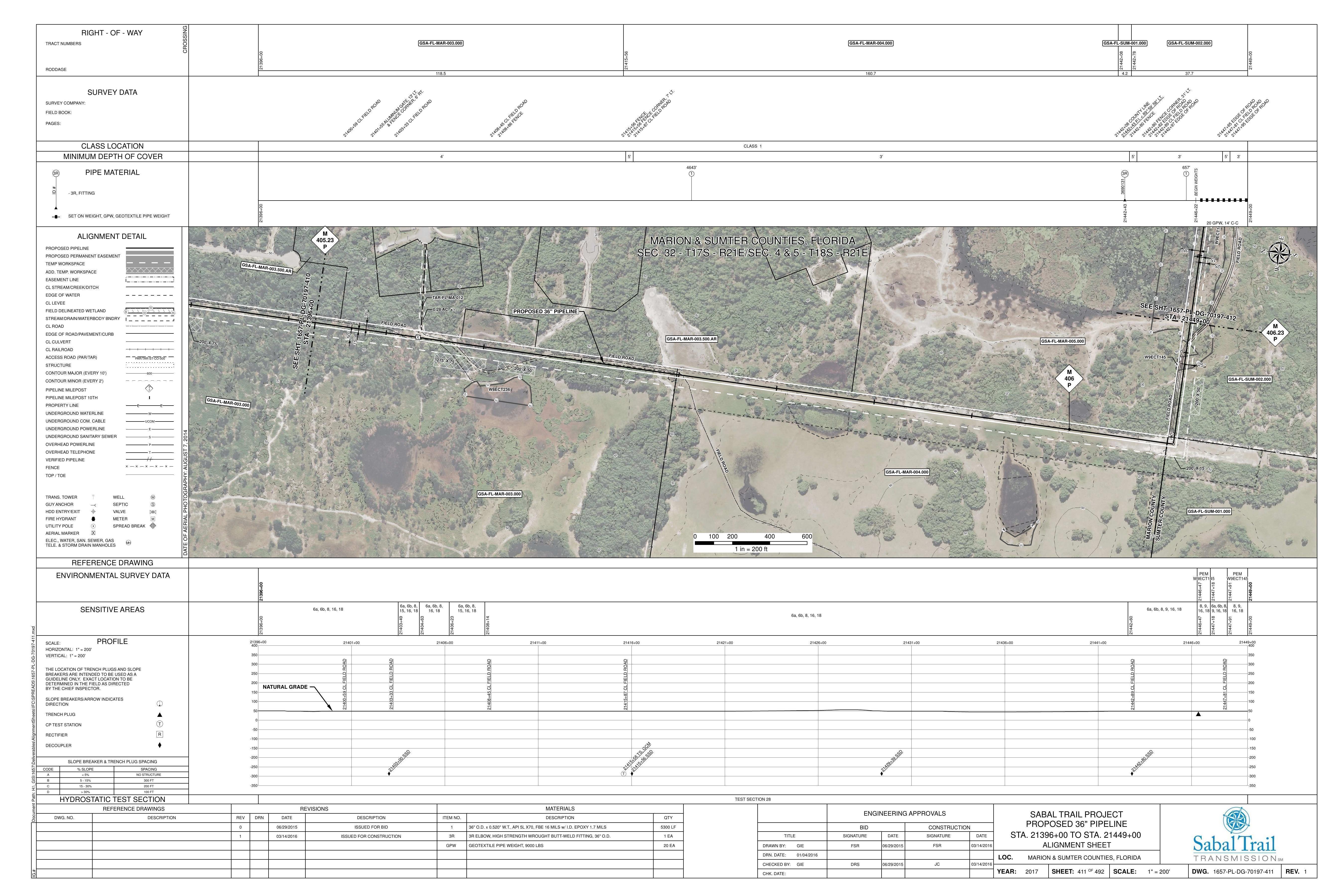 1657-PL-DG-70197-411, STA. 21396+00 TO STA. 21449+00, MP 405.23, MP 406, MP 406.23, SW 175th Street Rd, Ocala, FL 34473, MARION & SUMTER COUNTIES, FLORIDA, 28.9676480, -82.2193220
PDF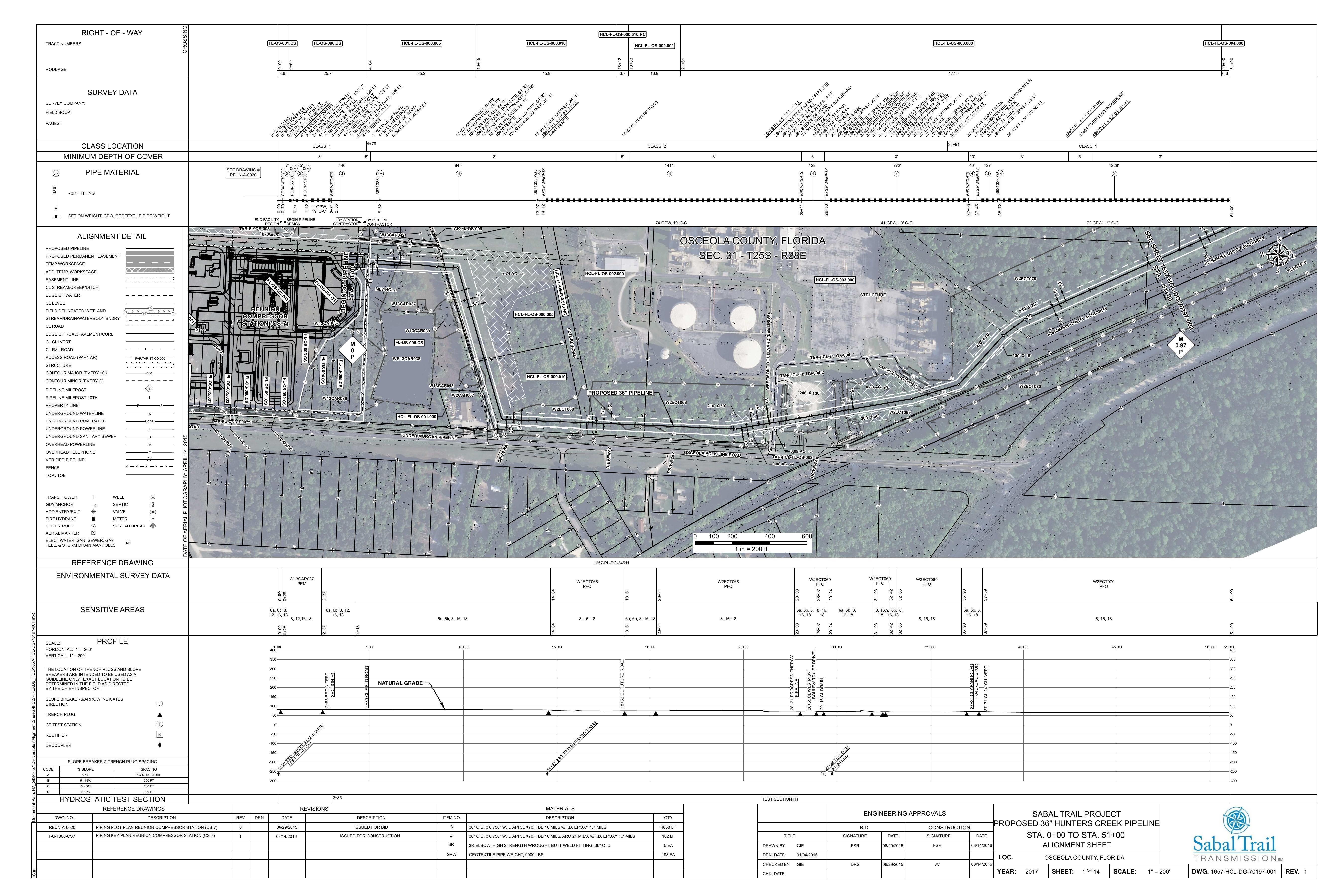 1657-HCL-DG-70197-001, STA. 0+00 TO STA. 51+00, CL ABANDONED RAILROAD SPUR, Reunion Compressor Station, Central Florida Pipeline Corp., Osceola-Polk Line Road, PROPOSED 36-inch HUNTERS CREEK PIPELINE, OSCEOLA COUNTY, FLORIDA, 28.2601460, -81.5488360
PDF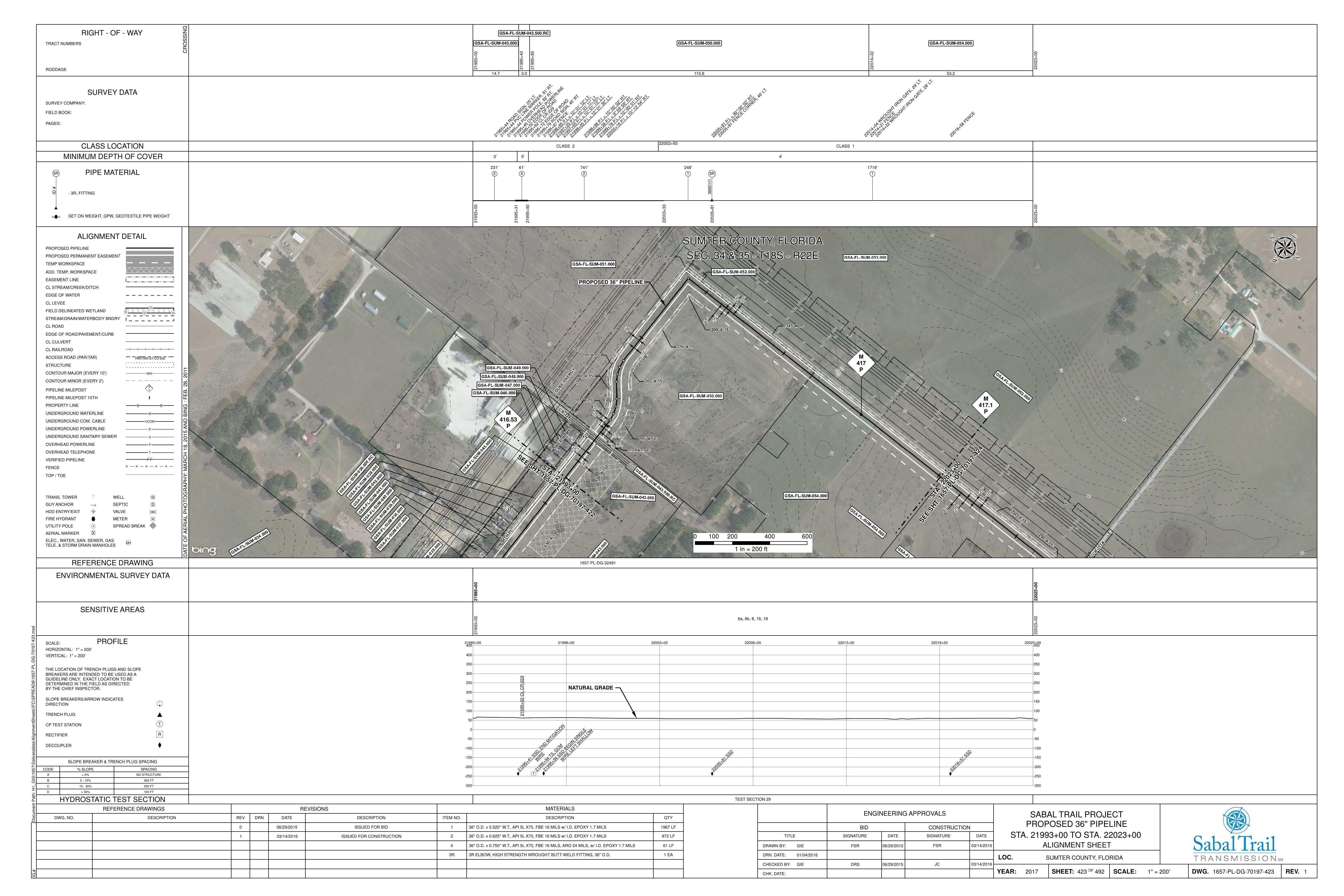 1657-PL-DG-70197-423, STA. 21993+00 TO STA. 22023+00, MP 416.53, MP 417.1, 984 NE 84th Pl, Wildwood, FL 34785, SUMTER COUNTY, FLORIDA, 28.8798630, -82.0833780
PDF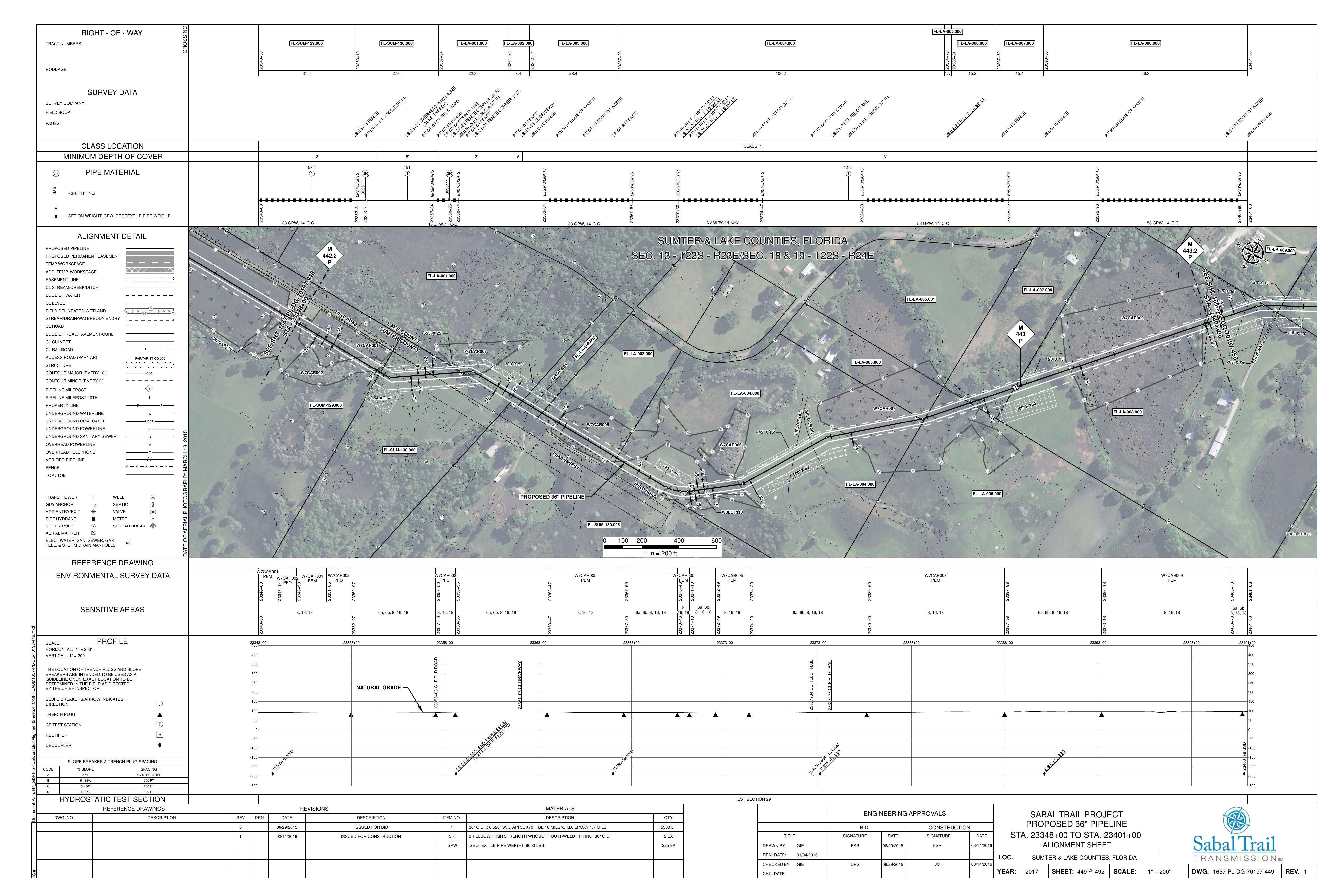 1657-PL-DG-70197-449, STA. 23348+00 TO STA. 23401+00, MP 442.2, MP 443, MP 443.2, 580 Sloans Ridge Rd, Groveland, FL 34736, SUMTER & LAKE COUNTIES, FLORIDA, 28.5670170, -81.9517850
PDF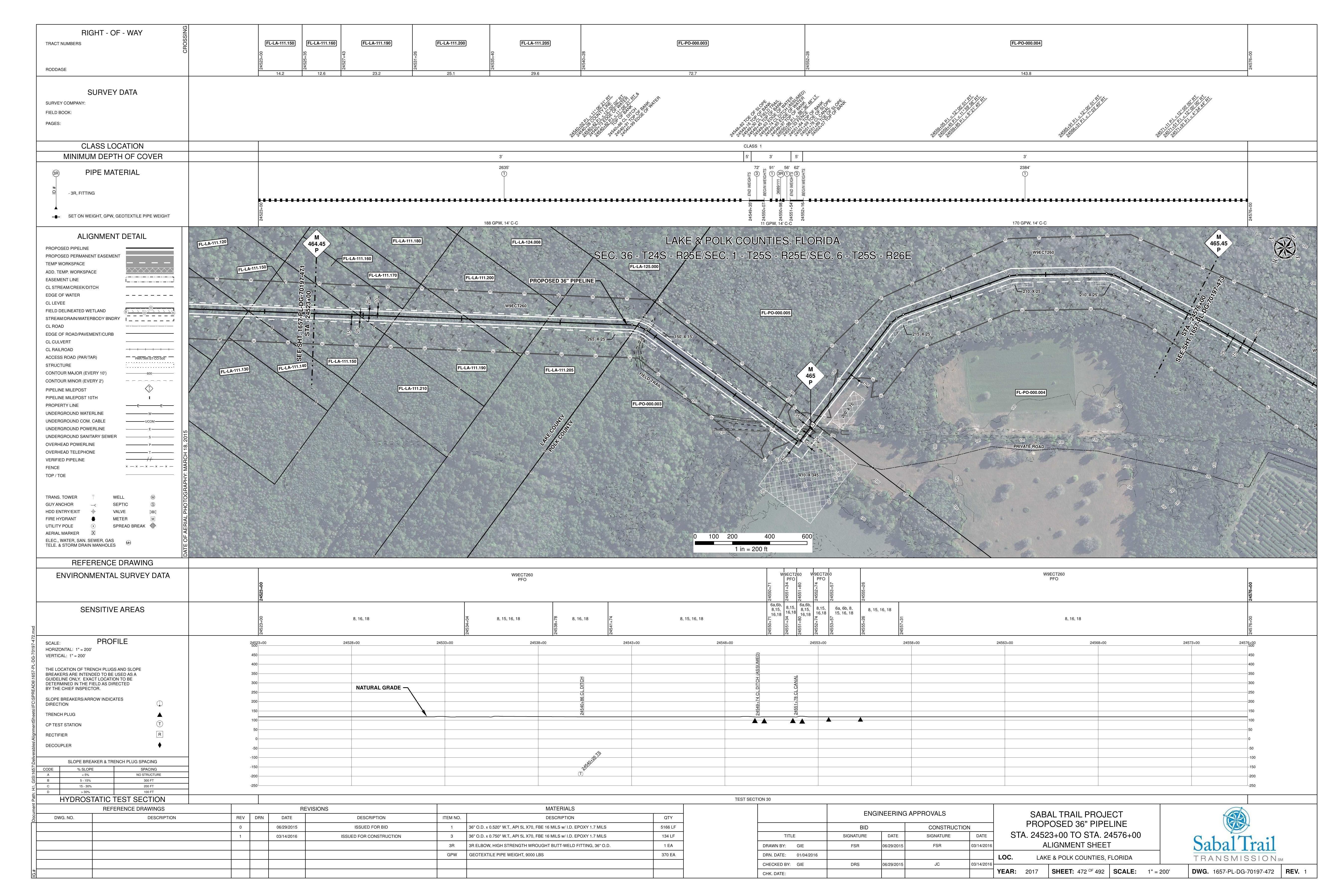 1657-PL-DG-70197-472, STA. 24523+00 TO STA. 24576+00, MP 464.45, MP 465, MP 465.45, Canal, contractor yard? LAKE & POLK COUNTIES, FLORIDA, 28.3426680, -81.7548370
PDF